Lund University (Sweden) has always been a place where, to a rather large extent, the different faculties make their own decisions. One positive effect of the new corona virus hitting us was us being forced to cooperate more than before in order to create common resources for all staff and students, and fast at that!
As most other universities, Lund uses several systems for teaching and meeting online, and creating, publishing, and sharing video, such as Zoom, Canvas, Teams, Conferences, Studio (Canvas' own video tool), and LUplay (Kaltura).
When two weeks ago all universities in Sweden were forced to move their teaching online, the Canvas project team quickly created two online "Covid-19 courses" open to all, one in Swedish and one in English. At the same time, a Zoom room was set up, staffed weekdays between 8am and 5pm, with the possibility for teaching staff to drop in and ask any questions related to the systems, be it technical or pedagogical ones. In addition, recurring online drop-in workshops were created in Zoom, to offer basic introductions in the different systems.
To get a picture of staff and students moving from campus-based to online courses and meetings, here are some statistics: Two weeks ago, on March 13, Lund University had 3320 registered Zoom users (staff and students) and 318 meetings ("meeting" covering teaching as well as meeting). NORDUnet, the Nordic universities network, was quick to restructure the system capacity, and rented some space in Amazon's newly built server hall in Stockholm, thus augmenting the capacity of Zoom on the 16th of March from 9 000 to 125 000 simultaneous users. That was doubled the following week to 250 000. On March 26, we counted 9505 registered users, and 1889 meetings!
Our video systems display a similar pattern; in a short period of time, teachers have found their way to Studio and LUplay and uploaded huge quantities of video to their online classes on our leading learning platforms. The best part of this whole Corona-induced shift to going online is that the staff's positive, eager, and let's-do-this-together-attitude has been a true source of energy for all of us involved.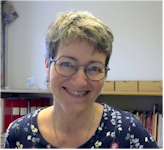 Author
Nicolette Karst,
Lund University, Sweden