The Media & Learning Association (MLA) or to give it its full name the MEDEA: MEDIA & LEARNING ivzw is an international, not-for-profit association set up in 2012 under Belgian law to promote and stimulate the use of media as a way to enhance innovation and creativity in teaching and learning across all levels of education in Europe. Members include national and regional agencies charged with the promotion of innovation in teaching and learning as well as universities, ministries of education and schools' networks.
Mission
The Media & Learning Association (MLA) is dedicated to advancing education through the strategic utilisation of media and digital technologies across all levels of education. Our mission is to promote and foster innovation and creativity in teaching and learning by empowering educators, students, and institutions with the necessary skills and competencies to effectively integrate media and digital tools into their daily practices. Our focus spans various critical areas, including the use of media, extended reality (XR), and artificial intelligence (AI) in higher education, digital media literacy, teacher training in digital media literacy, and open educational media resources (OEMR). We aim to be at the forefront of identifying and sharing best practices, supporting the development of digital and media literacy strategies and networks, and inspiring innovative solutions to enhance pedagogical approaches through media-based tools and services. We align our objectives with the European Union's vision of promoting a digitally enabled education approach and combating disinformation.
Membership
The Media & Learning Association has three different types of members:
Organisational members are at the core of the Media & Learning Association. These are institutions, universities, and other educational entities that actively contribute to the association's mission. They engage in collaborative projects, research initiatives, and best practice exchanges, fostering an environment of collective growth and innovation in the realms of media and learning.
Sponsoring members play a crucial role in supporting the financial sustainability and growth of the Media & Learning Association. They also form a vital link with industry, ensuring our association has access to the latest trends and developments in relevant tools and services. They play an active role in MLA, participating is both online and face to face events and contributing to the different communities of interest that we support
Networking members within the Media & Learning Association are organisations active in related areas of interest who share our concerns with fostering collaboration, information sharing, and creating synergy within the educational community. They collaborate with us on specific activities and help us to share information about our work as widely as possible.
Activities
At present the most important activities of the association are:
Media & Learning Annual Conference which is run each year in collaboration with partners who have included in the past the Flemish Ministry of Education and Training and KU Leuven. These conferences attract on average 300 participants mostly from Europe.
Online events including the Online Media & Learning Conference series focused largely on Higher Education. We also organise a significant number of webinars and online workshops aimed at our members and others in specific areas, e.g. digital media literacy, media in higher education, extended reality, artificial intelligence, open educational media resources.
Annual MEDEA Awards, which recognises excellence in the use of media to support learning aimed at all producers of educational media.
European project facilitation and knowledge sharing service for its members including network facilitation. This includes participation in European supported projects and SIGs on topics related to the innovative use of media in teaching and learning. Visit our projects page to see in which projects the association is currently involved.
News and information services which includes our popular Newsletter sent to over 10,000 recipients each month. Our news output covers articles and updates about recent developments, innovative projects, funding opportunities and initiatives of all kinds as well as tools of the trade, reviews and event announcements.
Surveys and research activities which are carried out on occasion to gauge members and others' opinions and experiences in specific areas of interest.
Structure
The main governing body of the Media & Learning Association is the Management Board which meets on a monthly basis and which is responsible for all major decisions including the approval of new members. This board is elected on an annual basis at the Association's AGM. Day-to-day management of the association is the responsibility of Sally Reynolds, the Association's Chief Operating Officer.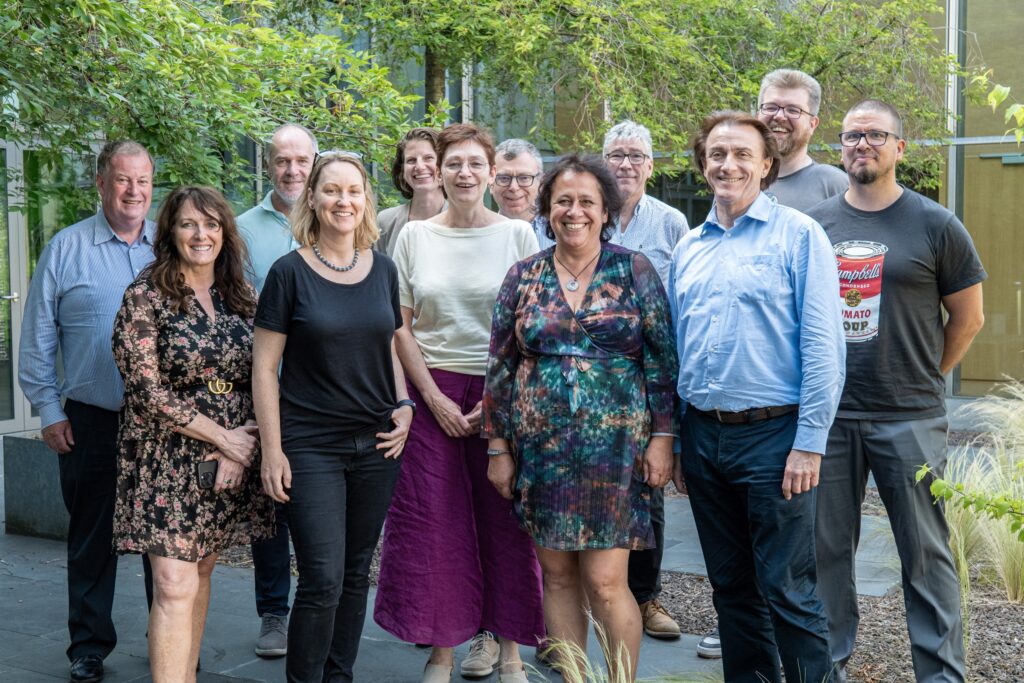 The Media & Learning Association's Advisory Committee members provide guidance and recommendations to improve the quality and relevance of online events, annual face to face conference and other activities in the areas of Media, AI, and XR in Higher Education. Their responsibilities include offering expert input, reviewing content (for example conference proposals), and participating in regular meetings (every 4-6 weeks). Additionally, they actively contribute by suggesting ideas and themes for the online events and the face-to-face conference, moderating and leading sessions online and face to face when relevant, while also taking the initiative to identify expert speakers, both within and outside their institutions. By leveraging their expertise, committee members help shape the association's initiatives and promote engagement within the community.
The work of the association is organised through Special Interest Groups (SIGs) that include different members of the association and which both direct and provide input and support the work of the association in different areas. Read more about the SIGs here.
Communication
Monthly Newsletter: Sent to over 10,000 readers, our newsletter summarizes key content from the news site, keeping our community well-informed.
Social Media Presence: Engage with us on Twitter, LinkedIn, Facebook, and YouTube for updates, discussions, and valuable insights.
Active participation in key European activities
The association is represented in several European-wide initiatives and expert communities such as EDMO , EMIL – the Media and Information Literacy Taskforce of EPRA, the European Commission expert group to tackle disinformation and promote digital literacy through education and training and the Media Literacy Experts Group of the European Commission.
MEDEA : MEDIA & LEARNING ivzw
Leuvensesteenweg 132, 3370 Roosbeek, Belgium
Telephone: +32 16 28 40 40
E-mail: info@media-and-learning.eu