Has the podcast become an essential part of Saxion's educational approach? No, not yet. But we are well on the way. Just like learning from and with images, sound is also a powerful way to absorb information. At Saxion we are now definitely seeing an acceleration when it comes to the use of (educational) podcasts. The Saxion video unit is currently focusing on two different types of podcasts: documentary podcasts and conversation podcasts. In documentary podcasts, there are always more than two people speaking or the creator goes on a journey. With this type of podcast, you often get more perspectives on a topic, and attention is given to ambient sounds to enhance the listener's experience. A conversation podcast on the other hand often covers only one theme or topic and in this type of podcast, no more than two people will be heard.
A Saxion example: the podcast series 'Mengelmoes'.
Last year students of the Honours Programme 'Innovation and Business Creation' made a nice podcast series called 'Mengelmoes'. In this series, different experts are interviewed about performance pressure, change management and procrastination. The series has been listened to about 500 times. Would you like to listen to this yourself? Go to video.saxion.nl or listen via Spotify.
Podcast as an essential part of the curriculum, does that work?
"It's very useful to process study material in a completely different way. It makes you engage much more with the subject" according to one of the students from the Honours Programme. Students say that making podcasts makes learning much more varied.
In this example students learned mainly by making a podcast, but of course they can also learn by listening to a podcast. In the 2018 study by Susanne Dau, Rene Holm Andersen, and Stine Nørkjær Nielse entitled "Podcast as a Learning Media in Higher Education", there are several observations worth mentioning about podcasts:
It increases understanding of difficult topics and motivates the student, only if the quality of the audio is good;
it works well when the average length is 20 minutes;
it suits students because it is so flexible, they can listen to the podcast 'on the go';
in the study, teachers noted that when students submitted assignments, they had incorporated elements from the podcast;
it increases the way learning is done auditorily, for example in pronunciation. which could be interesting for international classes.
The podcast is trending after all, why isn't it in the curriculum?
Of course there are Saxion programs where podcasting is used in the curriculum, like in the program 'Creative Business', where students in the first year make a podcast themselves. But the question: "Why isn't podcasting used in the curriculum?" came from one of the students in a workshop about the use of podcasting for the Social Work course at the beginning of this year. Mendel Wemerman is supervising students in which they want to collectively podcast a history of the Social Work field. They are planning to work with audio fragments and are going to work with us in the same way as we did with students in the podcast series 'Mengelmoes' (see below 'Help in developing a podcast series').
During a workshop I showed a 'one-minute podcast' by the VPRO to explain how a podcast can be put together. It demonstrates how you can tell a whole story in one minute by making use of the setting and environmental factors so that the listener starts to create images in her or his own head. This ensures you are consciously using every sound to create a beautiful product. This is also known as 'soundscaping'.
Podcast series in the making: Classroom of the future
We have started preparations for a series of podcasts on the theme 'Classroom of the future'. We are doing this together with the Saxion project group that is working on this topic and where we are imagining what education will look like in the near future. In this project, we are asking and discussing questions like: how to realize time and place independent learning? what do we actually mean by blended learning and how can we increase student success?
Help in developing a podcast(series)
For the podcast series 'Mengelmoes' the Saxion video unit guided the makers at various moments in the process. In the image below you can see how we worked together.


* Podcast creator can record a podcast independently with their own equipment or use the equipment of Saxion video unit under supervision.
**When publishing, it is possible to do so on various platforms, think here of spotify, iTunes or Soundcloud.
If creators have an idea, we are happy to guide them in terms of content and technique. Together we search for answers to questions like: who is your podcast host, what is the ideal length, what elements and style tricks do you want to use, what role does music play in your podcast and what sounds can be heard?
Although our team is called the 'video-unit', we are involved with all types of media. In the last years, Cecille in particular has been able to bring podcasts into Saxion. Would you like to know more about how we are using podcasts at Saxion? Just contact us via video@saxion.nl.
Editor's note: Colleagues of Cecille (Jantine, Tim and Dennis) will be talking about their experiences with podcasting and sharing their tips and suggestions during a presentation and discussion session that forms part of our programme on 6 May for the next Media & Learning Online Conference. Find out more here.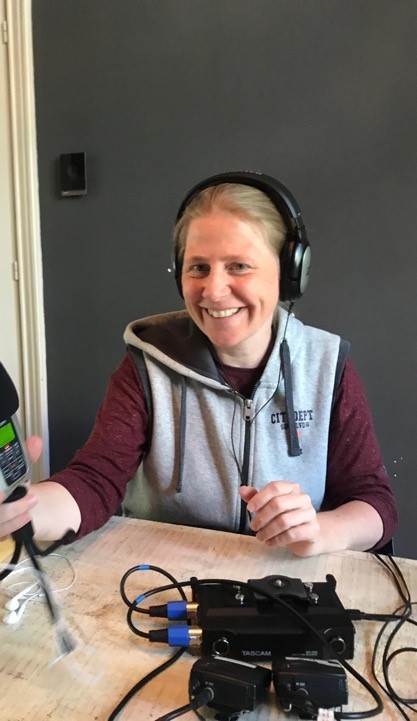 Author
Cecille Plomp
Media Advisor & Video producer at video-unit Saxion