The 7th EDIT – Educational Video Challenge was organised 18-26 November, 2020. The event has had only minor changes in the past few years – it's always been an online event since the original idea of a hackathon style challenge, based on the video production process can be delivered online in the same way in every country. The videos, the screenings and ceremony are fairly easy to organise and access everywhere. The challenge itself, the time frame, the learning material and the assessment process was the same for all the participating universities – just like in the previous years, online lectures and instruction was provided. The international jury was working online and the screening was online. If there's any international co-operation possible in the times of pandemic, it's certainly this one.

But that is not to say that the event wasn't affected by the situation.

Austria entered a very strict lockdown in the beginning of the week just as EDIT started. Some universities were still moving their whole study programme online – for the first time with no physical contacts at all, no campus experience, no face-to-face activities and instruction. The local organisers, the teachers from previous EDIT events already had their hands full even without the EDIT. When thousands of students and teachers are working hard in a new situation to keep the basics of the study programme running, the priorities are understandably changed.
The experiences of past months and the physical restrictions of the current situation influenced both the content and the production of the videos. I am from Oulu University of Applied Sciences School of Professional Teacher Education and as one of the producers of EDIT, I noticed that one of themes that seemed to be present in several submitted videos was the sense of being alone and problem solving. Since many of the students in their production team couldn't meet face-to-face to film scenes or even visit particular places (some university campuses were also closed) they solved the issue by creating split screen scenes. Video conferencing tools were an obvious option when creating these sorts of scenes. Desktop animations and stop motion animations were also more common than previous years – paper cut-outs and lego blocks ended up being essential elements instead of real people and physical locations.
This year physical workshops were not offered locally. University video studio locations couldn't be used and not even production tools like video cameras and microphones could be loaned if there was no one on campus. "How to edit…" online videos came in handy. Mobile phones and personal laptops were the main production tools – and to be fair – this is probably the situation in most of the schools where teacher students end up working.

The physical workshops are still needed when it comes to filming in location or studio surroundings or acting, etc. Working at home and on your own with an online team will not give an experience of certain areas of video production. The element of teamwork presents itself somewhat differently when comparing online collaboration and physical collaboration. Communication is different, dealing with emotions is different, sense of time and space is different. And certainly, the spontaneous decisions and creativity are shared more easily in face-to-face communication.

Editing process seems more familiar to university students, year after year. Video-based communication in social media has made the editing of short clips a very mundane activity. There are hundreds of video applications that allow a limited number of edits, effects, filters and so on. Often these are enough. High-end editing software is often too expensive for an individual user who only needs it roccasionally. This year Premiere or Final Cut wasn't used as much as DaVinci Resolve, iMovie, Videoleap or MS Windows editor.

Christian Kogler from The Pädagogische Hochschule Upper Austria at Linz has built up co-operation with WeVideo over several years. The collaborative cloud editing tool was an excellent choice to edit video from multiple locations. This was also the first time the EDIT challenge had one international production team working from different countries without ever meeting one another physically.

According to Christian 'We have had this idea of international online teams for many years but it felt very particularly apt for this year's EDIT. It certainly has some problems but the team managed to make their video in time and also got to know other students they would not have met otherwise".

In 2020, educational institutions all over the EU have learned that online internationalisation will be supported and encouraged even more than before. Erasmus teacher exchange, for example, can take place completely virtually. This is great news for us. We have been creating an event and offering this experience as a joint course for years but it hasn't been credited in the same way as physical teacher exchange or partnership projects. We are convinced that our experience with the EDIT challenge clearly shows how internationalisation and strategic partnership can be made a reality. This is based on our experience of the EDIT challenge as an international online activity based around educational video productions that requires co-operation amongst organisers, teachers, jury members and students.

In 2018 and 2019, the winning team of the EDIT challenge had an opportunity to take part in the Media & Learning conference and present their experiences and screen their video during the conference. Unfortunately, this wonderful opportunity wasn't available in 2020 and its unlikely this year either. We hope that in the near future, the participants of EDIT, the future teachers who have dived into the world of educational videos will get a chance to get to know the Media & Learning community and bring their own experience to the conference. Let's keep our fingers crossed.
The winner of EDIT 2020 "Trust me, I'm telling you", was created by Erwan Borek, Eric Schirl, Ilse Pucher-Baechle, Joachim Habringer and Julia Pahl from Pädagogische Hochschule Oberösterreich, Austria.
The top scoring video dealt with the phenomenon of fake news and how it can be dealt with in schools. The jury noted that in the multitude of videos inspired by the Covid pandemic, this one was unique. The topic is globally very important and it challenges people to think about how we consume media content. All the technical aspects of the video work well, there is an engaging story, the pedagogical idea is defined clearly – the video has all that is mentioned in the EDIT challenge criteria. the video is also beautiful which is not necessarily the most common element of educational videos but it lifts the educational experience to a new level.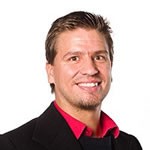 Author
Janne Länsitie,
Oulu University of Applied Sciences School of Vocational Teacher Education, Finland