The promise of Open Educational Resources (OER) is one that people in the learning sector have discussed and debated for many years. With the pandemic, the value and importance of OER has never been more prominent. According as more and more learners depend on online resources, the question that is on many people's minds is whether there is really a role for teachers in the new reality of online learning?
So what do you think? is the increasing availability of high quality OERs somehow replacing the teacher? are there aspects of learning that only a teacher who is present in either the classroom or online can fulfill?
No need to register, just join us by clicking on the button below on Friday 26 March from 16:00 to 17:00 CET to talk about these and lots of other questions!
Meet our Moderator: Sónia Hetzner, Innovation in Learning Institut, Friedrich-Alexander-University, Erlangen-Nürnberg (FAU), Germany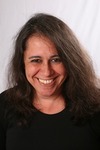 Sónia Hetzner is unit coordinator and researcher at the Innovation in Learning Institute at the University of Erlangen-Nuremberg in Germany. She is responsible for the development, management and evaluation of Multimedia and E-Learning projects for higher education. She is an e-learning instructional designer, author of self-learning material for different target groups; training and support of authors, lectures and trainers; she has developed and implemented a set of concepts and projects for the meaningful use of Video in Higher Education.