The massive increase in online learning has pushed the question of who owns what to the forefront in our daily experience as either learning providers or learning consumers. Many people in the sector have only a vague notion of the laws related to ownership and re-use of digital learning resources. Many more are of the opinion that laws and regulations related to intellectual property simply don't apply when it comes to education, agreed by most to be a public service.
Are they right? are the current laws and practices fair and morally acceptable? should we care who owns what and, what's probably more important, do we have a role to play in making sure that those who create digital resources in the learning domain are properly compensated.
No need to register, just join us by clicking on the button below on Friday 30 April from 16:00 to 17:00 CET to talk about these and lots of other questions!
Meet our Moderator: Javier Aleuanlli, Centre for Innovation, Leiden University, The Netherlands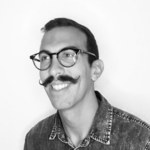 Javier Aleuanlli is an intellectual property and technology attorney. LL.M. in Law and Digital Technologies at Leiden University. He works at the Centre for Innovation of Leiden University as legal counsel. His field of specialization is IP and data protection in connection with technology, software and XR. He is also part of the management team of XR ERA, a hub focused on XR application in the field of education.