by Megan Fromm, Education Manager, NAMLE, USA.
This summer, the National Association for Media Literacy Education (NAMLE) released our updated Core Principles of Media Literacy Education (MLE). These principles are a set of 10 foundational statements that describe best practices in media literacy education. They describe how learners, educators, education settings, and larger social contexts come together in meaningful ways to facilitate media literacy education.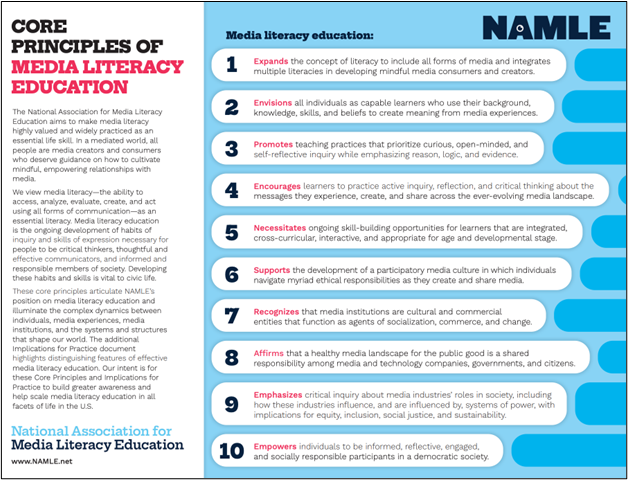 Our original version of the Core Principles was written in 2007, and so much about media industries, education, and technologies has changed since then. At NAMLE, we set out to update these documents because we wanted to know: How can we create a foundational document that better serves people seeking to implement media literacy education in myriad ways? How can our principles better account for new knowledge on the nuanced and critical intersections of media, society, politics, and culture?
Our inquiry and revision process, which took more than a year, revealed important needs that guided our work:
We needed to make the language of the Core Principles more reflective of evolving technology
We needed to more clearly recognize participatory culture around media consumption and creation, specifically highlighting the role of content creation in people's everyday lives
We needed to acknowledge how media industries reflect and also create power structures and systems, more clearly drawing a line of impact from these systems to ways of seeing the world and developing understanding
We needed to acknowledge relationships between media literacy and parallel literacies such as digital, news and information literacy
The field of media literacy is wide and encompasses incredibly important domains of research and knowledge we wanted reflected in the new Core Principles: from social justice to eco-media literacy and many other areas of inquiry in between. While it's impossible for one document to perfectly represent such a wide and ever-changing field, we believe these 10 updated principles more holistically and authentically position the work being done in media literacy education.
In addition to revising the Core Principles, we also updated the accompanying Implications for Practice document. This document provides guidance on what kinds of attitudes, values, teaching techniques and classroom strategies can best support each core principle. We've had these documents translated in Spanish and Portuguese, with Greek and Ukrainian forthcoming this fall.
While we are incredibly proud of how these updates provide a better pedagogical roadmap for teaching media literacy, we can't emphasize enough that these core principles are aspirational—few media literacy educational experiences can do all of this, for all students, all at once. To us, the beauty of media literacy education is also its pervasive challenge—to teach media literacy is an ongoing process, a practice in a discipline and knowledge base that no one can ever master, even in a lifetime.
We want educators to see in these principles an opportunity to connect to what they may already be doing or a chance to bring in a new element without feeling like media literacy education is all or nothing. These principles outline media literacy education at its finest—a vision for how and even why our work matters. To make it real, teachers need other resources, too. And that's where our wide community of media literacy educators and advocates comes in.
We hope you will find value and support in our updated Core Principles, and we are grateful for a chance to be a part of the global media literacy community. If you have experience in translating documents and would like to help translate these into other languages, please reach out to us at namle@namle.net.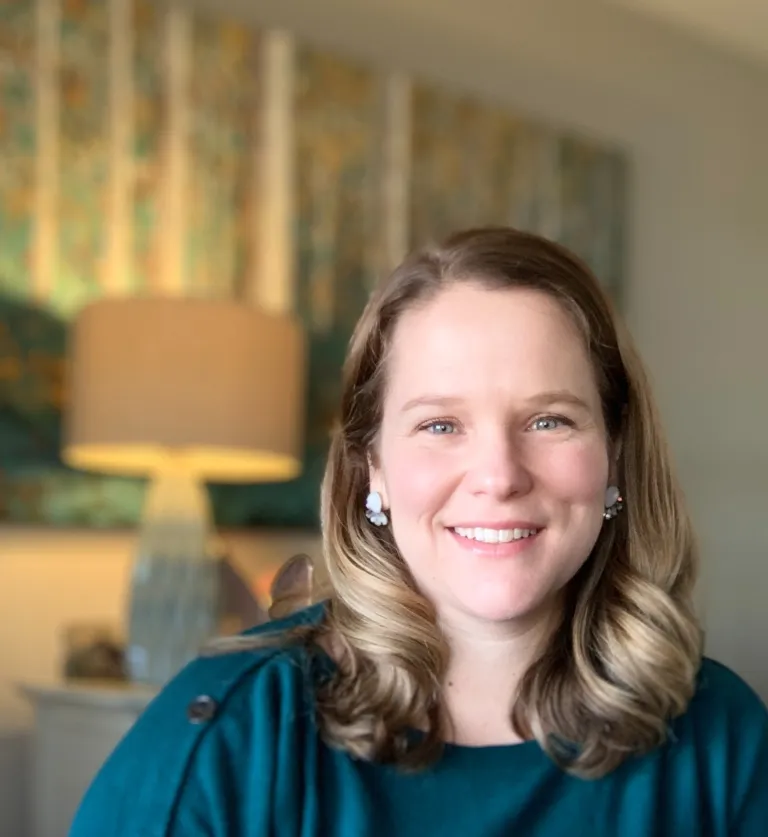 Author
Megan Fromm, Education Manager, NAMLE.