by Antonia Liguori, Loughborough University, UK.
In the Winter of 2019, I was invited to facilitate a digital storytelling workshop for educators in Maryland, in US, hosted by the Montgomery College and organised in collaboration with the Smithsonian Institution. It was supposed to be just one of the usual 'train the trainers' sessions, in which we explore with colleagues from various disciplines how to effectively adapt the conventional StoryCenter Digital Storytelling model in Higher Education. But that time, exploring barriers and opportunities of applying digital storytelling as assessment tool triggered something different in my way of thinking about my own digital storytelling/teaching practice and also had a long-lasting impact on that HE institution. Since then, a community of practice was created at the Montgomery College to reflect within their academic community on how to best apply this creative practice within formal education; and I became more active in supporting colleagues in my own institution to include digital storytelling in their assignments. 3 years (and a pandemic) after that workshop, we have now, at Loughborough University, undergraduate and postgraduate students producing a digital story to be assessed on various subjects within Design, Creative Arts and Data Science. We mainly apply it as a reflective practice to slow down their learning process, dive deeper in their understanding of the subject and use the lens of creativity to expand and cement their meta-learning experience.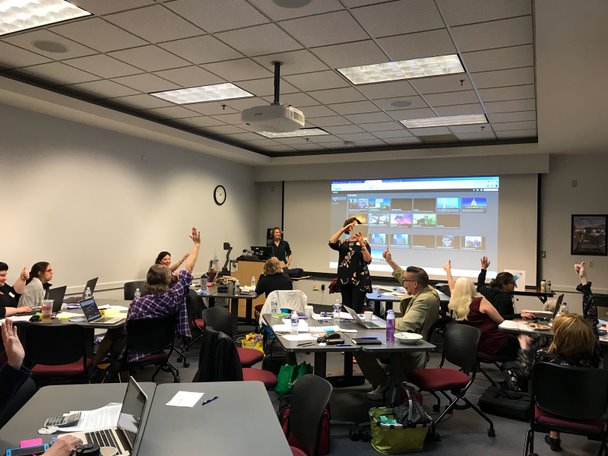 What was obvious during that workshop in Maryland was a general need felt by colleagues from various disciplines, spanning from Anthropology to Nutrition, to re-shape their assessment in a way that would make it a meaningful and integral part of the learning process and not just the end point. While we were exploring how to structure a module in a way that could include time for the practical sessions implied in the digital storytelling process, a History Lecturer said something that is still engraved in my mind: "we need people interested in learning and not intimidated by learning". And then another colleague added: "Digital Storytelling gives students permission to be a creator of knowledge and not just an information receiver". Those two simple comments summarized in two sentences very clearly why digital storytelling, when used as an assessment tool that values both the process and the output, can enhance the learning experience: the two key aspects that differentiate this approach from others are in fact the freedom to create, and the opportunity to find and select (slowly and through various languages, i.e. visual, verbal, written, performative, audio) what makes each student interested in a particular subject.
Many academics from that workshop in early 2019 now recognise digital storytelling as a high-impact practice as well as an assignment grounded in inclusivity, in particular for students of diverse educational backgrounds and aptitudes who can find inspiration and recognise their own successful learning in the digital story production process.
The challenge for educators is investing time and energy to understand how to adapt the conventional digital storytelling model for the benefit of their students and in respect of the academic standards of their discipline. And this implies creativity in our way of thinking too.
Author
Antonia Liguori, Senior Lecturer in Applied Storytelling at Loughborough University, UK
If you are interested in learning more about digital storytelling, please feel free to contact Antonia at A.Liguori@lboro.ac.uk.