by Martina Wagner, Swedish Media Council, Sweden.
What opportunities does someone living in Sweden have to become and remain media and information literate throughout their life? What preconditions are created by public structures and what measures are being implemented to promote media and information literacy in the Swedish population?
The Swedish Media Council is about to complete a major survey of measures taken to promote media and information literacy (MIL) in Sweden in 2021/22. This survey is more comprehensive than earlier surveys conducted in 2014 and 2017/18. The current survey is intended to map and capture structures and initiatives implemented in Sweden during the period to promote MIL among all age groups and target groups. The Swedish Media Council intends to update the survey annually and to report to the European Commission on implementation every three years to meet Sweden's obligations pursuant to Article 33a of the Audio-visual Media Services Directive. Regular mapping of measures to promote MIL in Sweden will provide an overview of stakeholders and initiatives and lay solid foundations for national cooperation in the field and for work in the stakeholder network MIL Sweden. The MIL Sweden network was formalised in 2020 and currently consists of 25 government agencies and other organisations working in the field of media and information literacy.
Since 2018, the Swedish Media Council has been tasked by the Swedish Government with "strengthening the work to enhance media and information literacy". As the government agency responsible for MIL, the council's work rests on three pillars:
The coordination of a national stakeholder network.
Regular surveys of measures to promote MIL.
The provision of a collaborative digital platform for knowledge-sharing and resources on MIL.
Monitoring the actors/stakeholders and the work they perform to promote MIL in Sweden is fundamental to executing the Swedish Government's assignment to the Swedish Media Council. The overview afforded by regular surveys enables the council to make qualified, competent assessments and/or recommendations and to coordinate the national stakeholder network. The members of the MIL Sweden network can use the results of these surveys to cater to underserved areas and target groups and to avoid overlapping initiatives and services.
Baseline measurements 2021/22
During 2022, the Swedish Media Council conducted a major national survey of work in Sweden to promote MIL, with the focus on stakeholders and implemented initiatives. The result of the survey is a situation report describing the sectors involved and the preconditions under which the work was conducted during the period (policy, governance, structure and implementation, and knowledge development). The aim is to periodically map and review these components to assess whether, where and how change occurs. As the first survey of this magnitude conducted in Sweden into work to promote MIL, the results of the 2021/22 survey are to be considered baseline measurements.
The most significant change in the most recent survey compared to 2017/18 is that a national structure is now in place to promote media and information literacy, in the form of the Swedish Government's assignment to the Swedish Media Council. This means that a government agency is now explicitly tasked with pursuing efforts to promote MIL in Sweden and to facilitate national cooperation as a means of doing so. As a broad, formalised network of 25 stakeholders from various sectors, MIL Sweden anchors this task and brings together cross-sectorial expertise. At the time of previous surveys, no such responsibility was assigned nationally, hence the Swedish Media Council's call for national coordination.
The survey model
The survey has been carried out according to a model developed by the Swedish Media Council in 2021, based on a comprehensive structure for the promotion of MIL in society identified in the 2017/18 survey. This structure is intended to promote and support MIL in Sweden through the work of higher education institutions, schools and school libraries, public libraries, formal and informal adult education, civil society organisations and media companies. These sectors constitute points of contact for MIL support for citizens/communities; between them, they connect to all age groups and target groups. Other stakeholders who already support MIL, or have the potential to do so, may also be added to the structure. Refer to the diagram below to see where people in Sweden may encounter measures to promote MIL: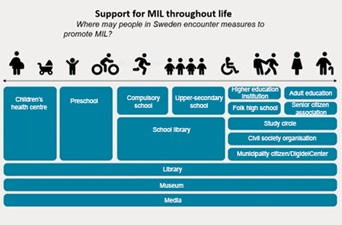 Children's health centre (BVC)
Preschool
Compulsory school
Upper-secondary school
School library
Higher education institution
Adult Education
Folk high school
Senior citizen association
Study circle
Civil society organisation
Municipality/citizen office, DigidelCenter
Public library
Museum
Media
The 2021/22 survey covers governance documentation such as legislation, appropriation instructions, government assignments, etc. Databases held by national stakeholders such as the National Library of Sweden and Swedish National Agency for Education have served as a basis for mapping activities. In areas where information is lacking, in some cases the Swedish Media Council has compiled its own data via, for example, a survey of national stakeholders, a survey of Sweden's 21 regional authorities via the Swedish Agency for Cultural Policy Analysis' Culture Database and a survey of all Swedish folk high schools (non-formal adult education centres).
The survey is divided into the following chapters/areas: "Politics and Policies", "Regions", "Schools", "School Libraries", "Public Libraries", "Non-formal Education and Civil Society", "Higher Education and Research", "The Media", "Cooperation/Collaboration", and "Stakeholder Efforts".
The strengths and weaknesses of Swedish work
The main strength of Sweden's efforts to promote MIL is the national framework, which provides a formal structure and mandates a government agency to coordinate the work. The main weakness is that, as yet, not all key actors/stakeholders are included in national cooperation. Work to promote MIL is still conducted in parallel and overlapping in various policy and knowledge areas. Not only does this make the work less effective, but it also creates difficulties when it comes to evaluating the initiatives that have been implemented.
Given the results of the latest survey, among other things, the Swedish Media Council requires a permanent government assignment to promote MIL and that the government issue policy documents that recognise that media and information literacy crosses policy areas and sectors and involves many stakeholders. This is something that is currently lacking in the national MIL framework in Sweden but that will have an enormous impact on structuring and streamlining efforts to strengthen media and information literacy in the Swedish population, in all age groups and target groups.
The survey will be published on the website of the Swedish Media Council in May, stay up to date: www.statensmedierad.se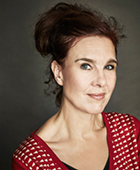 Author
Martina Wagner, Programme Manager, Swedish Media Council, Sweden: since 2018 and in charge of the Council´s work with the Government's assignment on strengthening the work to enhance media and information literacy.