by Madelyn Garcia, University of the Philippines Los Baños, Philippines.
Research and advocacy that link children's rights to their digital environments are gaining attention and shaping initiatives that underscore children's welfare, learning, and development in a highly digitalized world. But what does it mean to link promoting media education with advocacy for children's digital rights?
In the Philippines, a country dubbed as the 'social media capital of the world' for six straight years, the heavily saturated media ecosystem has emphasized a much heavier need to advance media literacy education among younger media consumers and users. The lack of media regulation, overwhelming deluge of mis/disinformation, and multiple forms of cyber threats have made our children vulnerable to risks posed by limitless exposure to various digital technology and media content.
Apart from reading, writing, and arithmetic, media literacy has become one of the necessary literacies that the children should acquire for them to successfully navigate their ever-changing digital media environments. However, an equally heavy work is needed to advance media literacy advocacy among our younger media consumers-the Philippine basic education curriculum has yet to fully integrate media literacy for elementary and junior high school learners, and we have yet to see more culturally sensitive, child-friendly, and age-appropriate educational materials that focus on enhancing one's media literacy skills and competencies.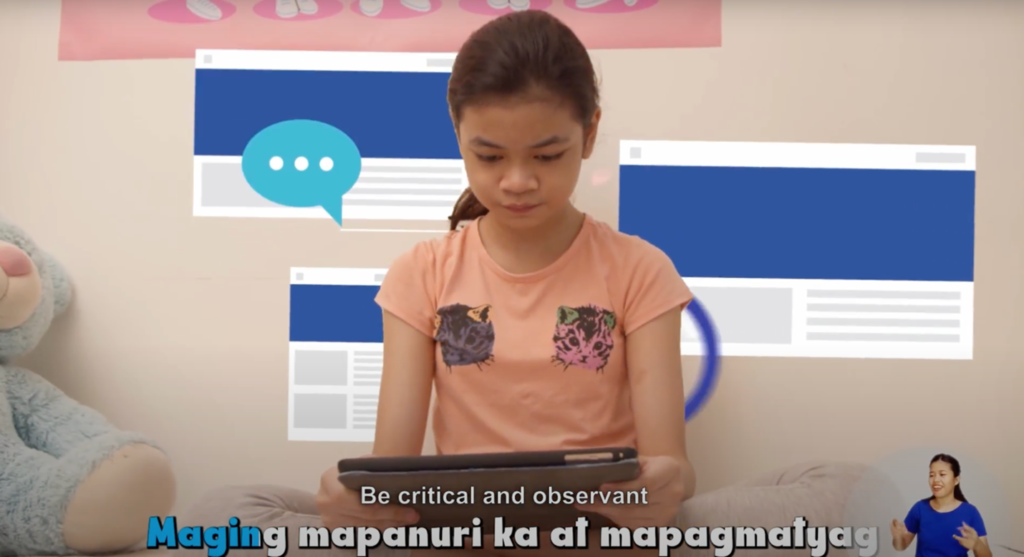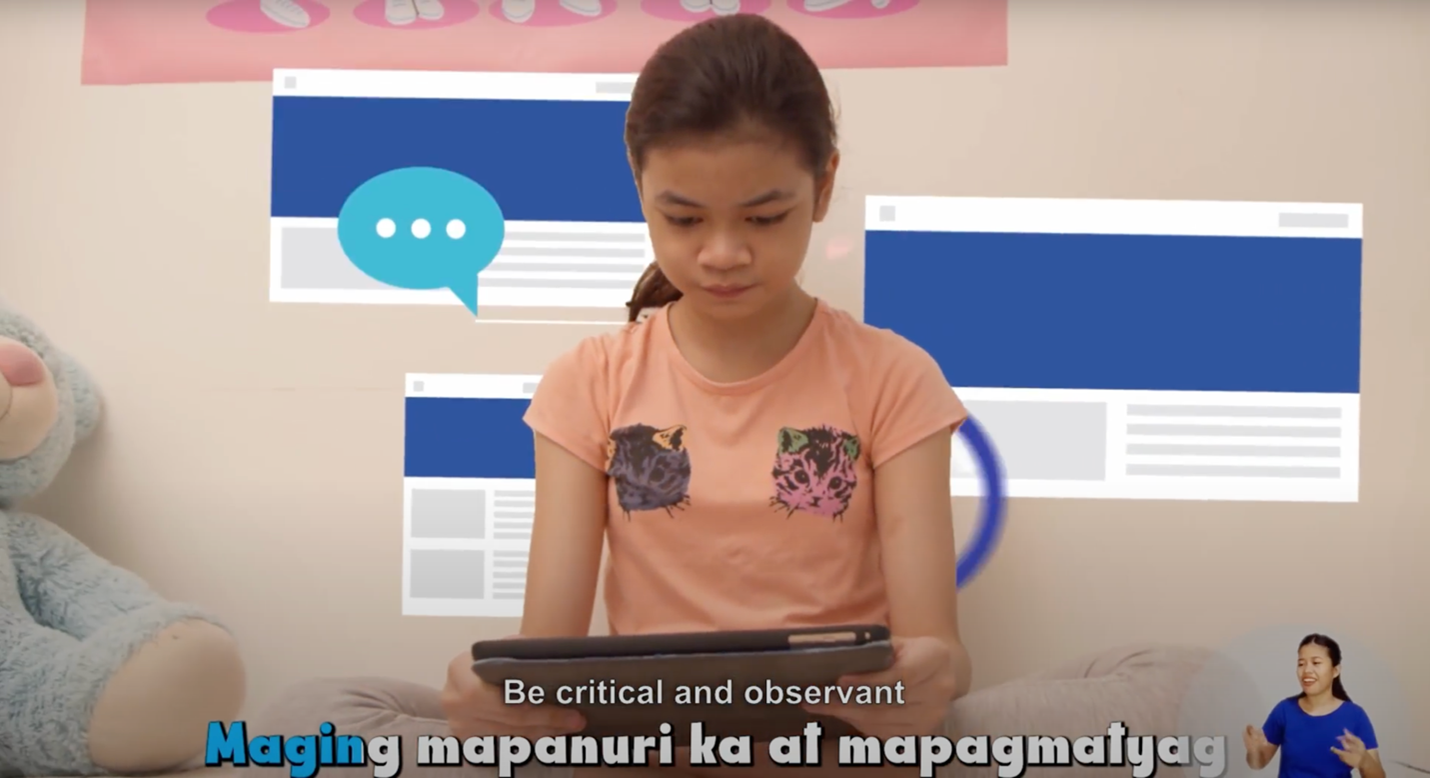 In line with developing educational materials, edutainment is commonly known as the act of learning through a medium that serves to educate and entertain. Example of this are videos such as live-action television programs intended for young viewers which are known to be a great resource for learners with a purpose to facilitate learning that is mediated by entertainment.
In 2021, the National Council for Children's Television (NCCT) rolled out the National Endowment Fund for Children's Television that provides funding for the production of child-friendly and age-appropriate television programs. The same national agency also conducts regular training workshops for media and information literacy for teachers as part of their mandate in advocating for more mindful and responsible media users and consumers. Consistent with this mandate is the conduct of a national study in 2019 which aimed to explore the kinds of media content consumed by children as well as to identify different challenges and risks encountered by both parents and children amidst the ever-changing and highly saturated media environment (Gentallan, et al., 2019).
Through the national endowment fund, an edutainment TV program for children was produced in 2022. It was conceptualized as a live-action narrative TV series that depicts everyday practices of a Filipino child in their media world. With a title "Meriam's Online World," this program follows the story of the two main characters: Meriam, a 10-year-old girl, in her sixth grade, a daughter of overseas Filipino parents, tech-savvy, active social media user, and likes playing online games; and her Aunt Marla, early 30's, millennial, tech-savvy, active social media user, and assumes as the guardian of Meriam.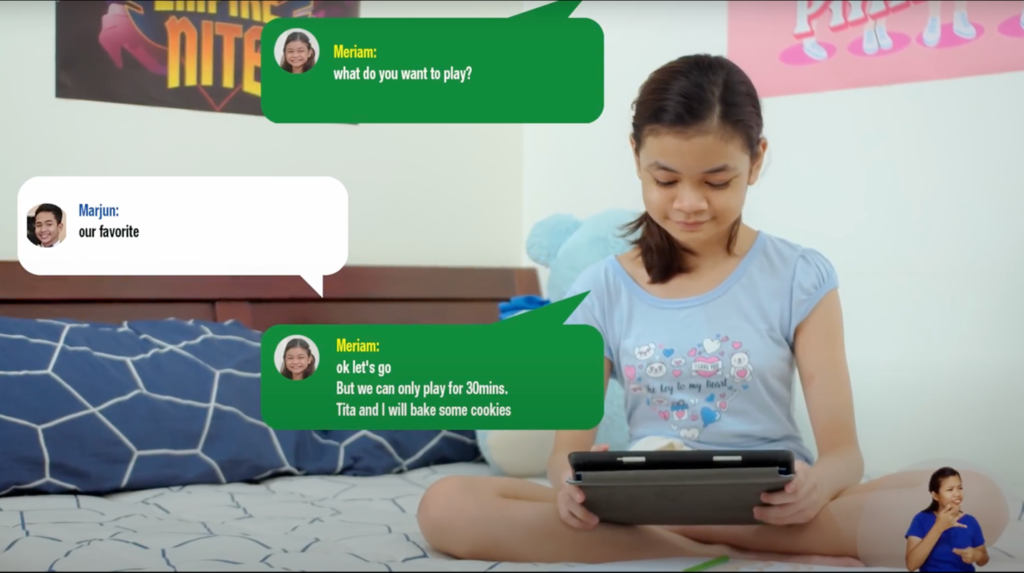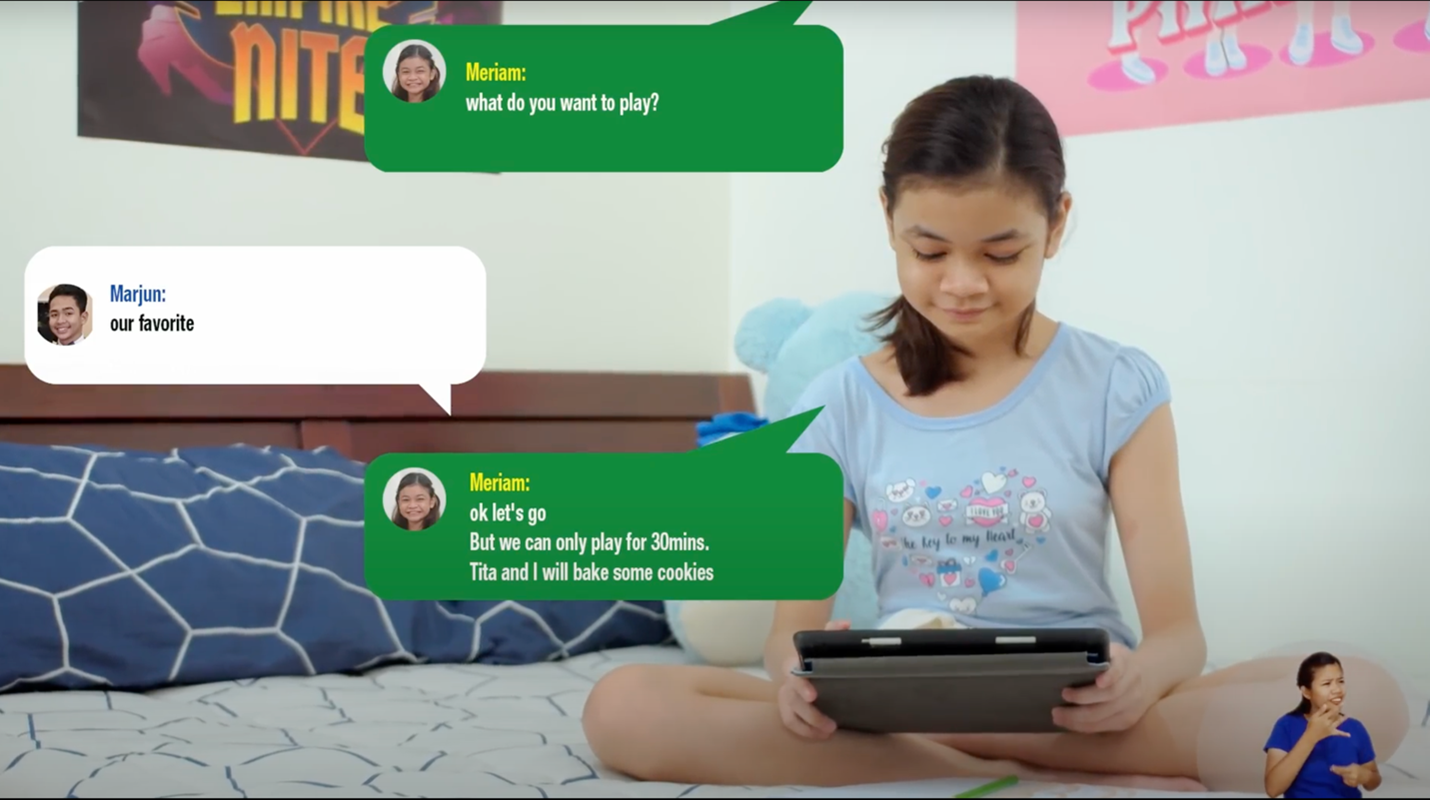 In conceptualizing the narrative of a child and her experiences and practices with digital media, the findings of the said national study by NCCT provided a backdrop against which Meriam is positioned in the series: On average, Filipino school children watch less TV in 2019 than in 2015 as they become more engaged in different media platforms. Their access to gadgets allows them to do a variety of digital practices such as watching online videos, updating social networking sites, and playing video games. It was also suggested that parents tend to feel more secure if their children stay at home rather than play outside; consequently, they will opt to provide their children access to mobile phones to keep them entertained while staying at home (Gentallan, et al., 2019).
With this evidence, children's increasing engagement with their highly digitalized world warrants a deeper understanding of how children navigate their online environments from the universal perspective of exercising their rights as a child. Thus, understanding digital rights lays a foundation for framing an approach to enhance media literacy education. As a tool for digital and media literacy education, Meriam's Online World program was conceptualized within the purview of the UN Convention on the Rights of the Child which Professor Sonia Livingstone (2014) comprehensively mapped into three domains: children's right to provision, participation, and protection.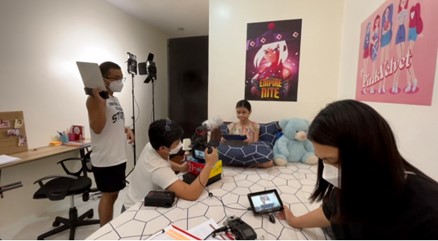 Anchoring in this digital rights framework, the edutainment program attempts to build awareness on children's digital and media literacy. It promotes literacy from the point of view of children's digital rights, particularly on their rights to development, leisure, protection, and participation. This allows to explore children's capacity to navigate digital media platforms while maximizing the opportunities and benefits brought by connectivity. The themes tackled in the program aimed to convey how children's mindfulness of their digital media practices, experiences, and habits opens up opportunities to participate in online civic affairs, such as standing up to cyberbullying, promoting internet safety, encouraging media analysis, and responding to misinformation and misleading online content.
Further, the program tackles issues arising from Filipino kids' more common experiences and practices in various online platforms, such as playing online games; watching online videos. The narrative thus portrays Meriam as a child who shows mindfulness and builds resilience in dealing with her experiences in her online world. Ultimately, the warm, friendly interaction and insightful conversations between Meriam and Aunt Marla sought to demonstrate the role of adult-child relationship for the development of literacy towards children's meaningful participation and empowerment.
At present, the five-episode series is intended to be shown as an after-school program with elementary pupils from Grades 6 to 9. After each episode, a facilitator will engage the young viewers in elicitation activities that will help them process the ideas and lessons out of each episode. Through this dialogic learning activity, the young viewers will be engaged and given opportunities for discussion regarding children's behaviors, values, and mindsets that are tackled in the series. The discussion will help them relate to their own everyday experiences and circumstances online, connect with other kids on how they are dealing with their issues in their digital environment, which will hence allow them to stimulate their critical thinking, respect, and concern for others. This will also ensure that the full potential of the series could be realized as a learning tool, at school and at home, towards a more meaningful understanding of their online environments.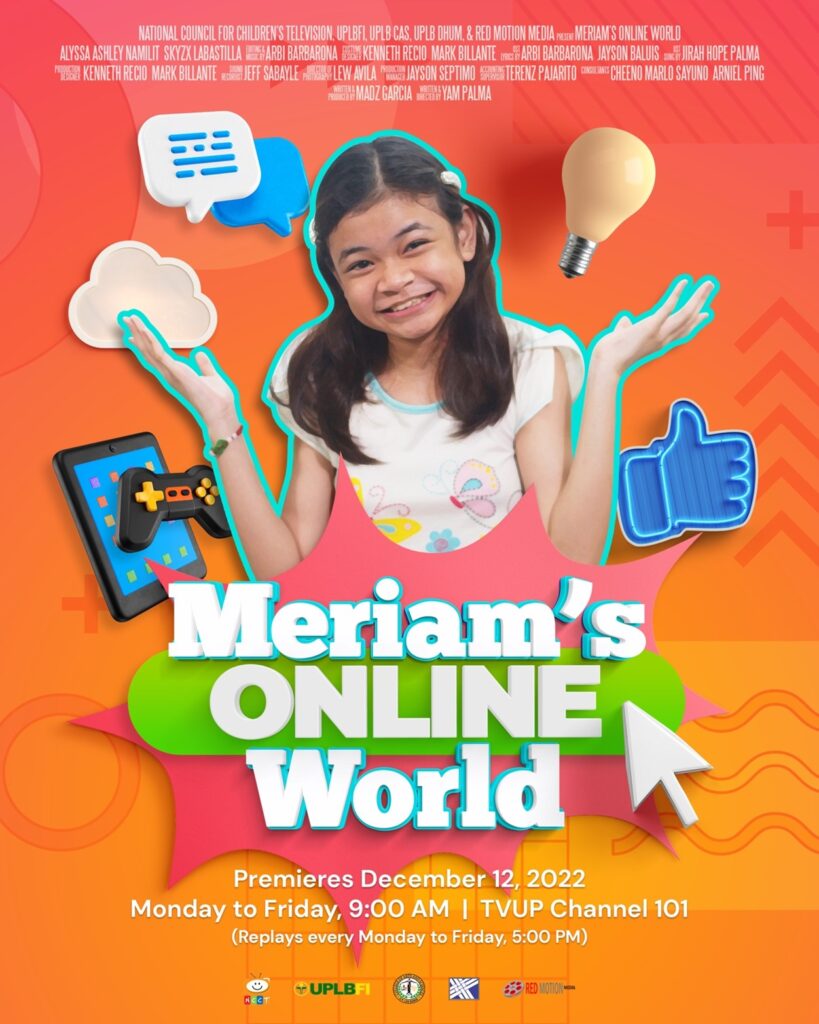 Within two-hour sessions of viewing and discussion, small groups of young learners will engage in in-depth and free-wheeling exchange about their online environment. In general, this afterschool program sets the following objectives. At the end of each session, the participants are expected to: 1) identify key topics from the series and other related issues; 2) reflect on their digital media use and practices; and demonstrate personal resolve to become media literate citizens. This school-based initiative for young learners was one of the inaugural recipients of the Marieli Rowe Innovation for Media Literacy Education Award given by the International Council for Media Literacy (IC4ML – Wisconsin, USA), which recognizes and supports works in progress that push the media literacy education field forward. The five-episode series was first aired on TVUP Ch. 101 from December 12 to 16, 2022. It went on-air again on IBC Ch.13 free TV and its digital channel last February 12, 18, 19, 2023.
To know more about Meriam's Online World click this link and visit the Facebook Page.
Author
Madelyn Garcia is an Assistant Professor at the Department of Humanities, University of the Philippines Los Baños. Her research interests include media literacy education, digital participation, and participatory and practice-focused studies in the field of media and information literacy. Currently, she works on promoting media literacy education through conducting training workshops with teachers and developing educational media for both formal and non-formal contexts.
---
References:
Gentallan, P.V.S., Bueno, A.P.D., Hilario, J.I.A., Abanto, F.L., Francisco, J.C., & Gutierrez, J.P.G.(2019). The Filipino Child's Media World: Media Consumption, Parental Mediation     Strategies, and the Elementary Learner's Classroom Performance (1st ed.). Pasig City: National Council for Children's Television.
Livingstone, S. (2014). Children's digital rights: a priority. Intermedia, 42 (4/5). pp. 20-24. ISSN0309-118X. Retrieved from http://eprints.lse.ac.uk/60727/