by Nicola Bruno, Open the Box, Dataninja & University of Modena and Reggio Emilia, Italy.
How to select a trustworthy source to be included in an essay? How to moderate a debate in the classroom about a conspiracy theory? How to responsibly use AI-powered tools for an assignment?
Every day teachers and students of all subjects and grades are called to face these challenges in their classrooms. But most of them have never been trained to properly handle these issues.
After running a 3-year media literacy program reaching more than 4,000 teachers, we have realized that schools and other educational organizations today are facing a big educational gap. In a world of information disorders and digital abundance, teachers and students are not well equipped to select, manage and responsibly use digital information.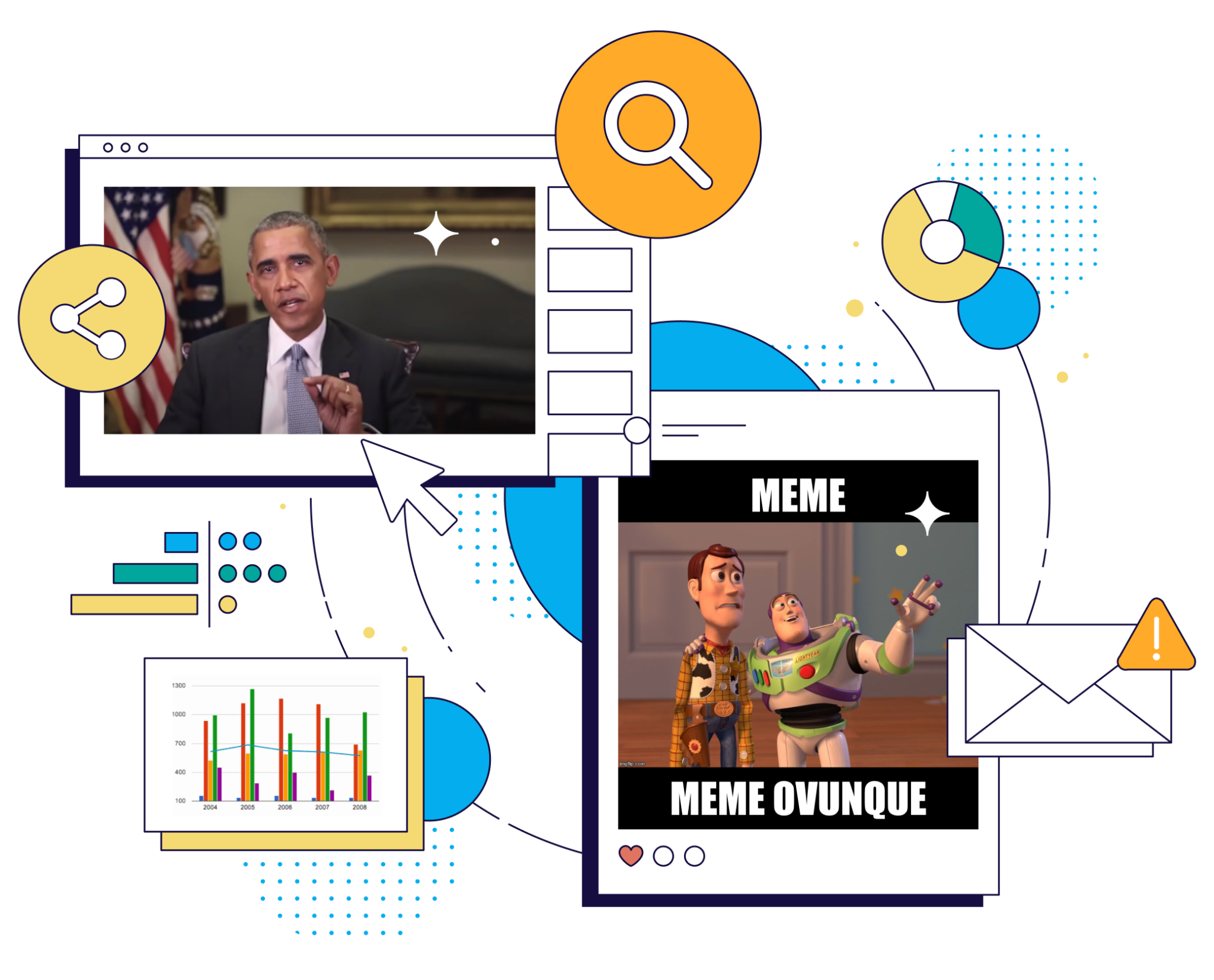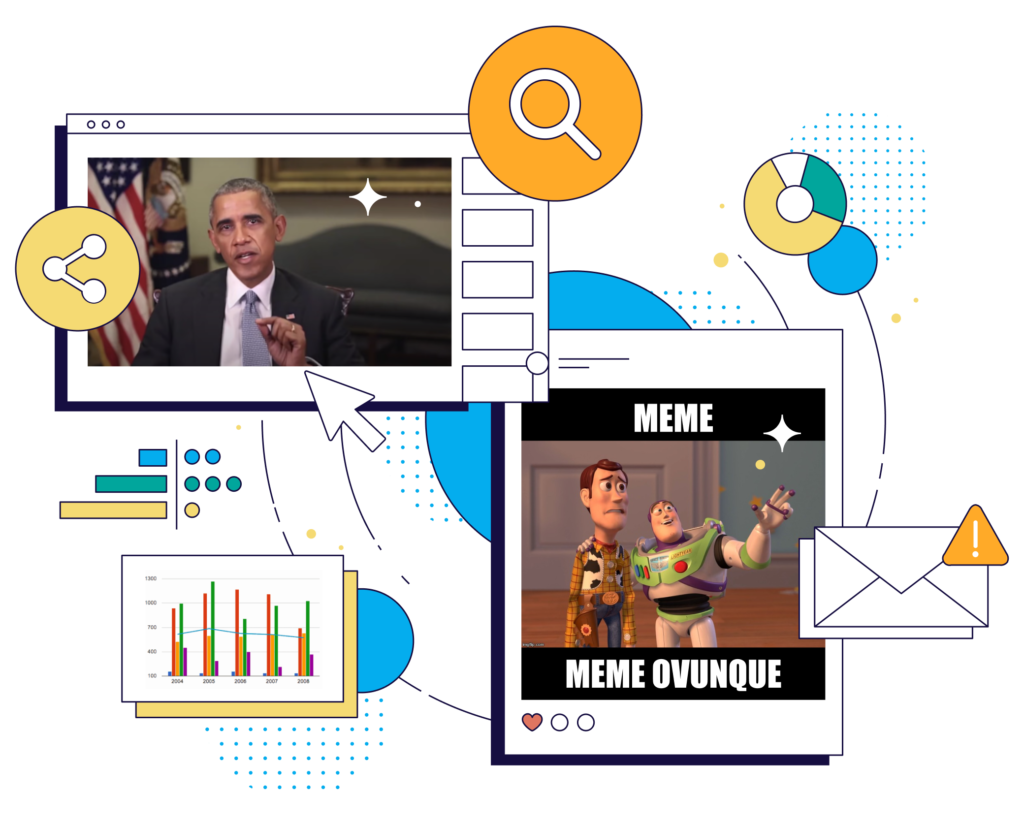 Open the Box started in 2020 in the midst of the Covid pandemic as an innovative media literacy project, targeting teachers and educators for spreading digital skills among 11-18 years old students in Italy (with some beta tests in Europe too).
Before launching the program, we have worked a lot on the design of the educational format. We didn't want to replicate one of the many projects offering one-time workshops in schools or "flooding" teachers with guides and do-it-yourself lesson plans. We wanted to produce a long-lasting impact in the educational ecosystem. And we needed to build an alliance with partners that could act as "multipliers" of our actions.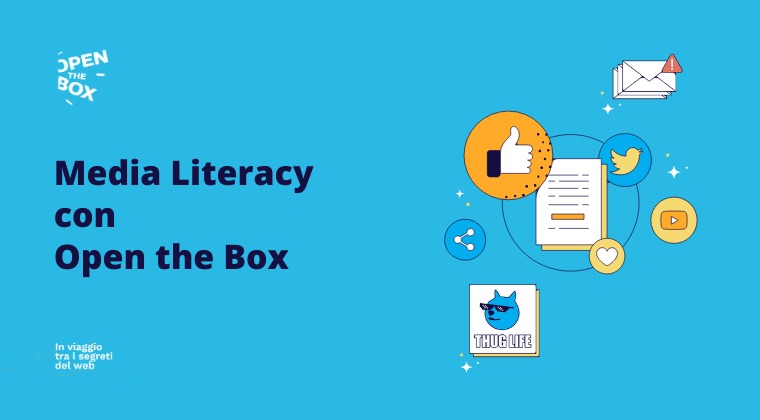 Thanks to a 3-year grant by Open Society Foundations, we have designed a cascaded media literacy program, addressing hundreds of teachers and educators, that in turn reach thousands of students in schools and extra-school activities.
The program is based on 3 main pillars:
1) Training and capacity building – Teachers can choose between 11 learning pathways on topics such as source-checking, visual culture, conspiracy thinking, data literacy, AI and synthetic media.
For each pathway we ask teachers to invest just 6 hours of their schedule, for following a self-paced online course (3 hours), completing a live workshop with us (2 hours) and receiving a personalized mentorship (1 hour). During the learning pathway they don't just learn how to pick a good source or how to use ChatGPT for an assignment, but also how to design and run a media literacy workshop in their own classroom. So far we have trained around 2,000 teachers and educators, measuring their skills before and after our training. The results are highly positive, with teachers improving their digital skills in a consistent way.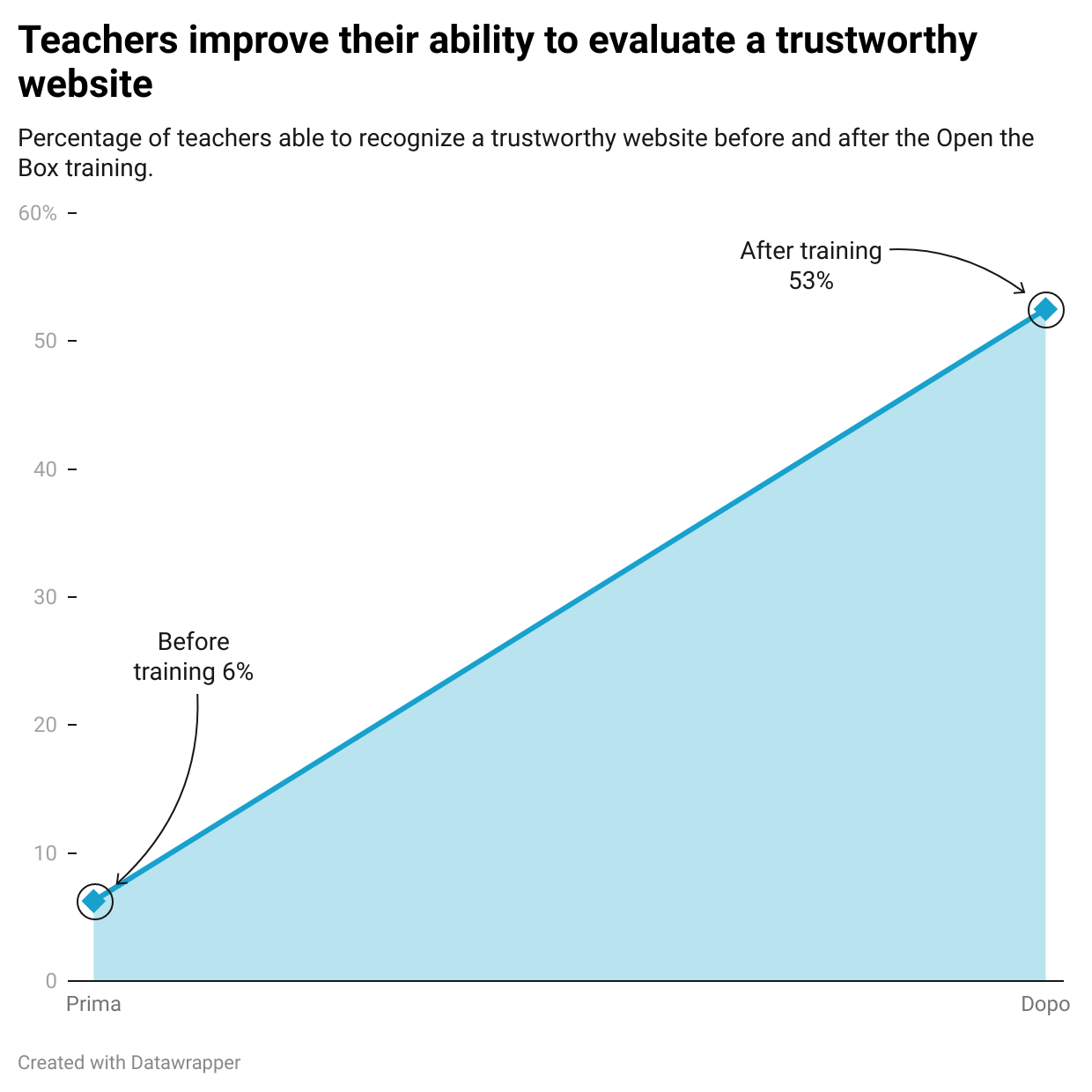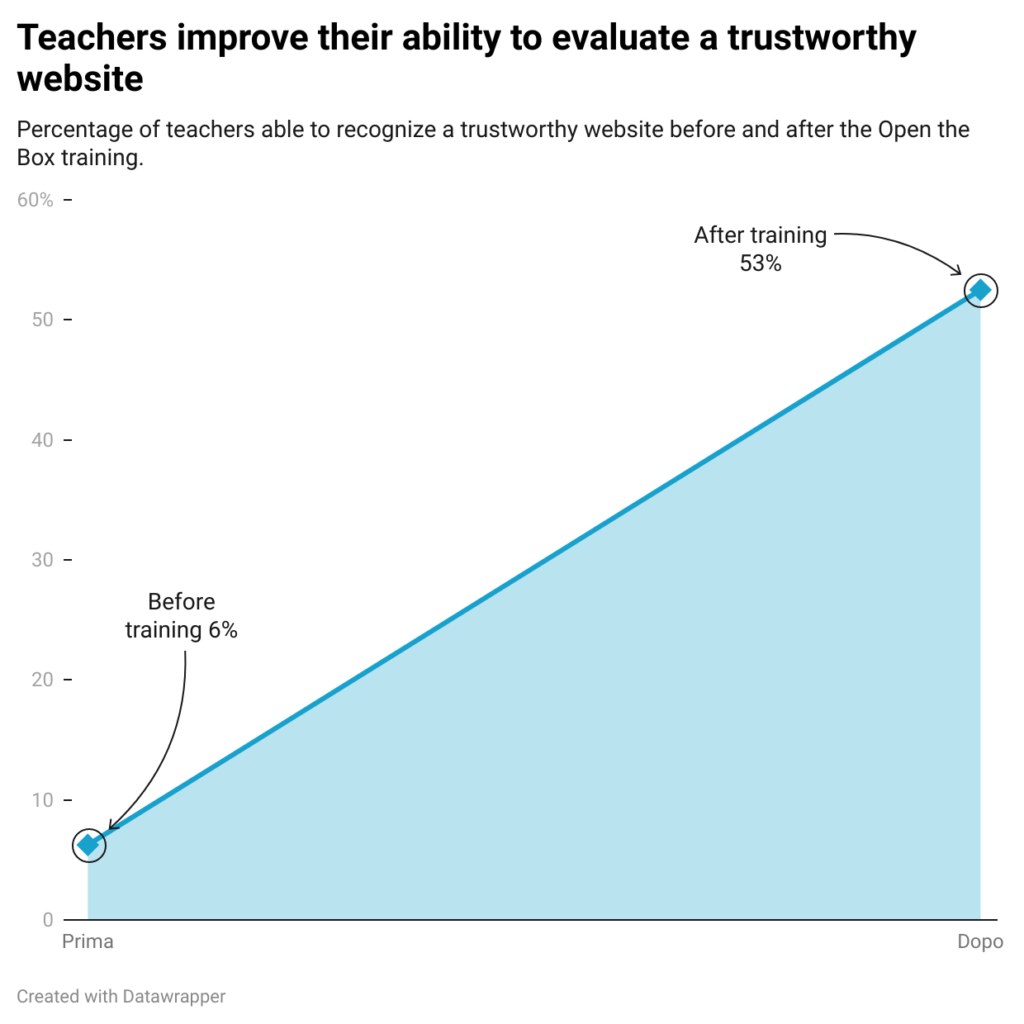 2) Educational kit – We have designed an educational kit with the final goal to make teachers able to run a workshop autonomously, while making their students more engaged. For this reason we have validated a methodology based on a sequence of fixed activities: 1) students' engagement (live mini-game), 2) analysis (presentation), 3) collaboration (group activity) and 4) evaluation (self-paced quiz). The interactive resources are very flexible and cross-topic: they can be used for any subject and any grade between 11 and 18 years old, both in presence or online. So far, more than 500 workshops have been organized in the Italian schools, reaching more than 20,000 students.
3) Challenges – After running a workshop, we invite both teachers and students to participate in online challenges on fact-checking, data visualization and meme generation. So far, teachers and students have uncovered cases of fake Pablo Neruda quotes circulating online or made-up stories about weird animals, as well as participating in intensive meme generation or data-physicalization assignments. By participating in these challenges students and teachers understand that they are part of a bigger informational ecosystem, where they can have an active role, both contributing to fight disinformation and populating the ecosystem with better content.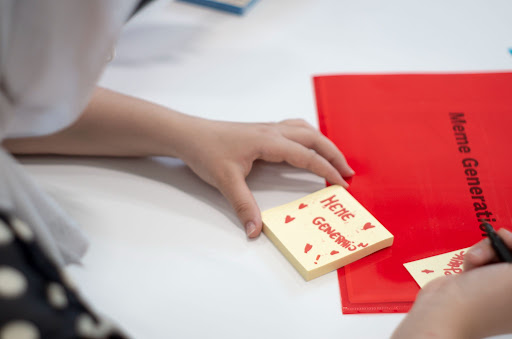 After the beta test in schools, we are now piloting Open the Box also in extra-school contexts, partnering with NGOs educators in disadvantaged areas, as well as with public libraries, cultural centers and foundations.
While traditional media are losing their authority and are struggling to reach new generations, we need to empower a new generation of educators that can act as mediators in the onlife environment young people live in.
It is not just a matter of "fighting against fake news" or preventing bad behaviors online: something bigger is at stake, as said by Andreas Schleicher, Director for Education and Skills at OECD: "These skills have applications far beyond detecting fake news and disinformation: to secure the act of making informed decisions is to secure the basis for functioning democracies".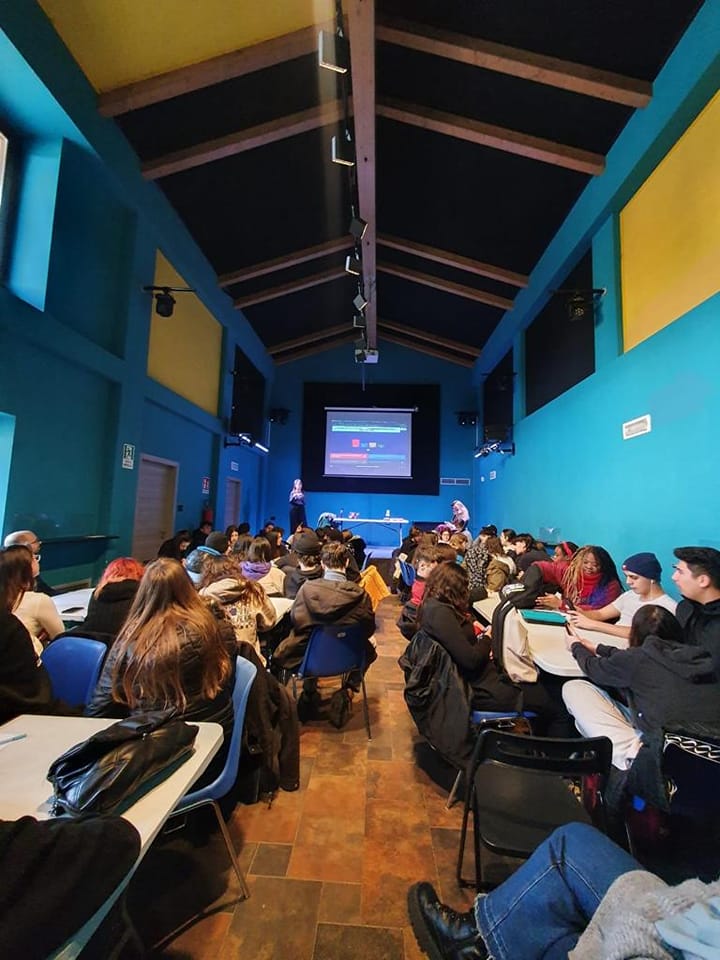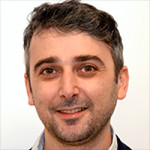 Author
Nicola Bruno, Director of Open the Box, Co-founder of Dataninja, Professor of Visual Storytelling at the University of Modena and Reggio Emilia, Italy