The EU Directive on Accessibility came into operation in September 2020 requiring public institutions to make their online content accessible which incudes the provision of accurate captioning. During the recent seminar organised by the Media & Learning Association, colleagues from 4 different universities shared their strategies for making video content accessible. We also heard from several organisations and individuals who are active in promoting accessibility strategies and agreed with everyone taking part to share the main presentations and discussion points in this article.
Arnout Probst talked about the approach taken to making video resources accessible and the accessibility journey undertaken by the University of Amsterdam, even though universities in the Netherlands, contrary to other public institutions, are not required to comply (surprisingly!) with the EU Directive. However, the University of Amsterdam's team is doing their best to make sure that video content is accessible. They're using an on-demand approach, that is captioning videos that have been requested by students, you can check out Arnout's presentation for the full story.
NTNU's educational video producer Andreas Schille talked about the overall approach taken at NTNU to making courseware, and video in particular, more accessible. Digital accessibility at NTNU is ultimately the responsibility of faculty which presents many challenges. And even though the University is not bound by the Directive, our colleagues in Norway are taking a proactive approach and collaborate with both faculty and the Disabilities Office on accessibility to make the educational content accessible.  They use automatic captions, corrected automatic captions as well as outsourced 3rd party captions, the latter used only for high-end production. (presentation)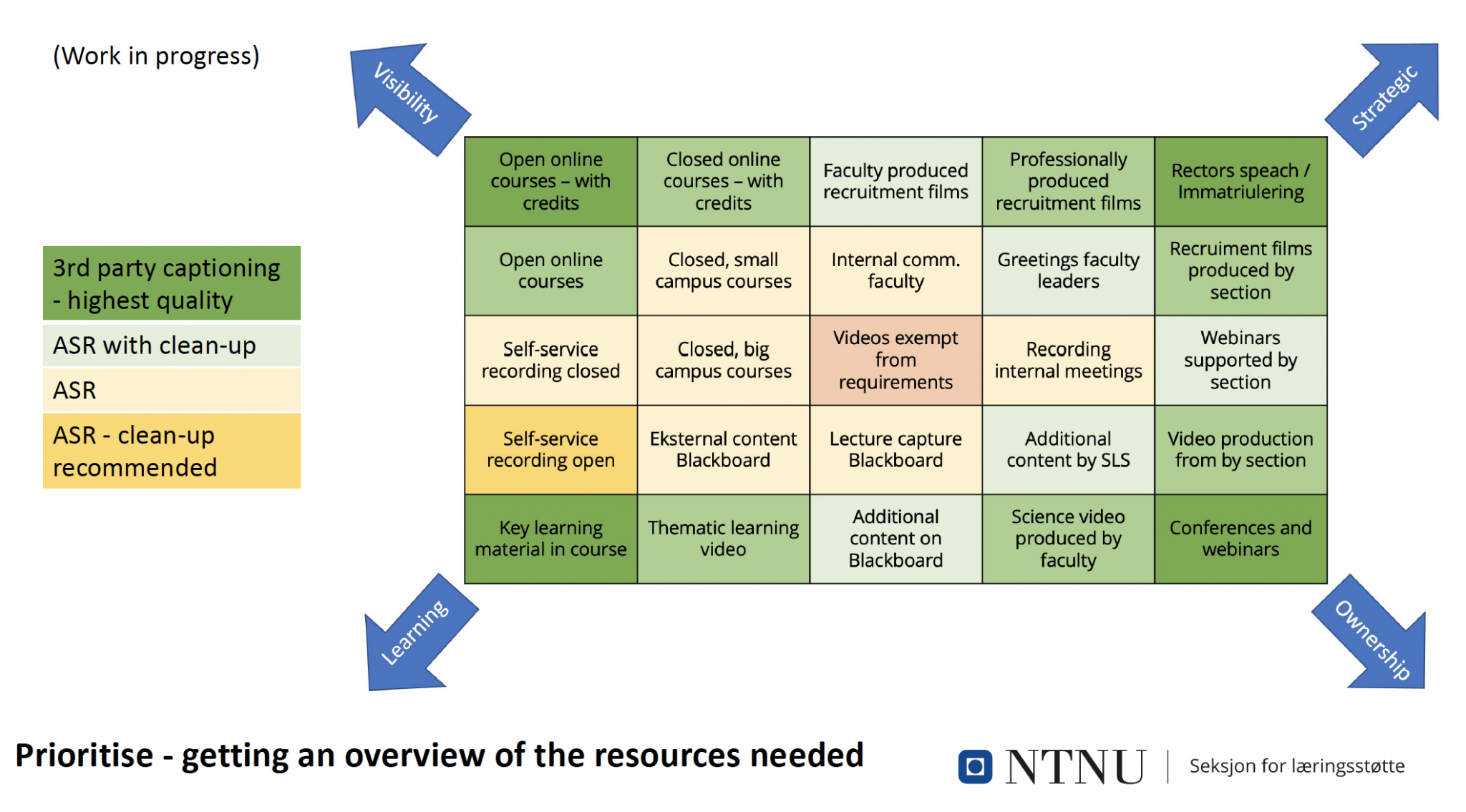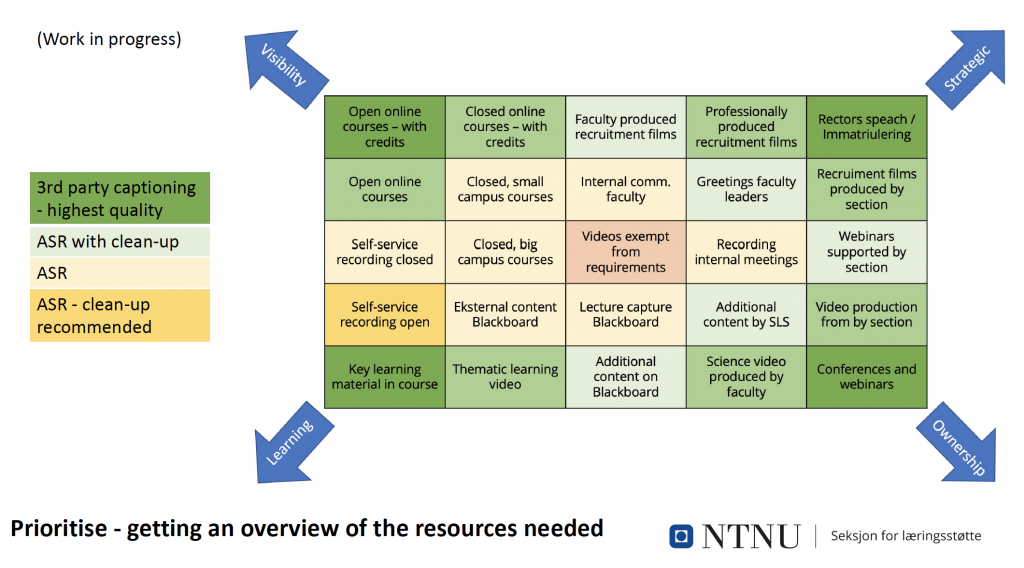 Mike Wald (University of Southampton, UK)  talked about the current state of play related to accessibility in UK universities and the work he and his colleagues have been doing to support the uptake of strategies and practices to support accessibility. He believes that video platforms used by universities should all have caption editing functionality that would allow students contribute to making content accessible by checking for and correcting any innacuracies. Mike advocates for students' involvement in the process because they're familiar with their subjects and could benefit from undertaking such activities – caption checking activities could for instance help students to revise. He suggests that institutions could use various incentives such as extra credits to encourage students to get involved. (presentation)
It was really interesting to learn more about how our colleagues from the other side of the ocean tackle accessibility challenges. MIT's Program Manager for Online Accessibility in Open Learning Mary Ziegler talked about how her colleagues adapted to remote teaching when the pandemic hit. Numerous staff in many departments scrambled to share equipment, tutorials, and a website teachremote.mit.edu (note: this site is dated, designed for 2020) was set up to assist faculty. Mary also shared 6 strategies for accessible video and 6 strategies for live events ( check out her presentation to learn more) that they use at MIT. They've also identified and are currently investigating 6 strategies for improving video access, namely:
Transcription of complex spoken maths readable by a screen-reader user)
Video players that support WebVTT audio description tracks
Sign language video-in-video
Live-to-post-production captions (Process from auto-transcription to accurate closed captions)
Bilingual caption track
Extended Reality (XR) (Exploration of how to make virtual reality, augmented reality, and gaming accessible)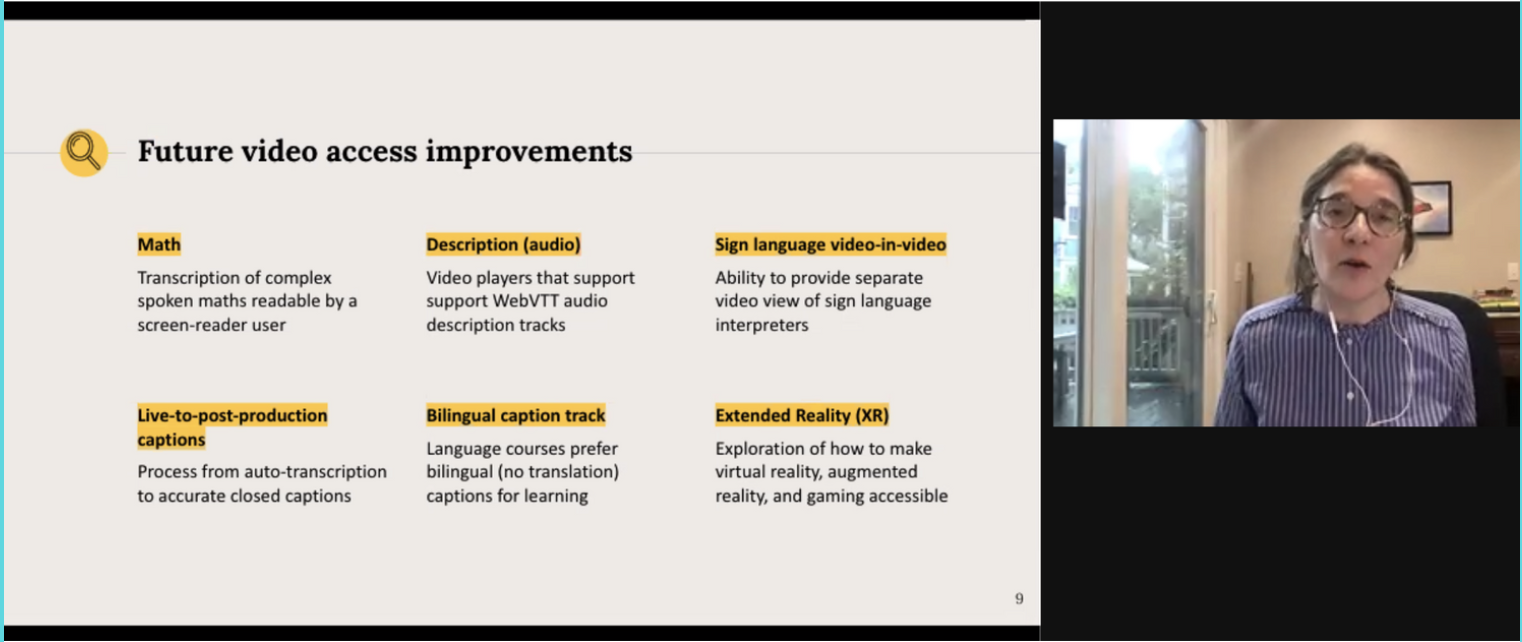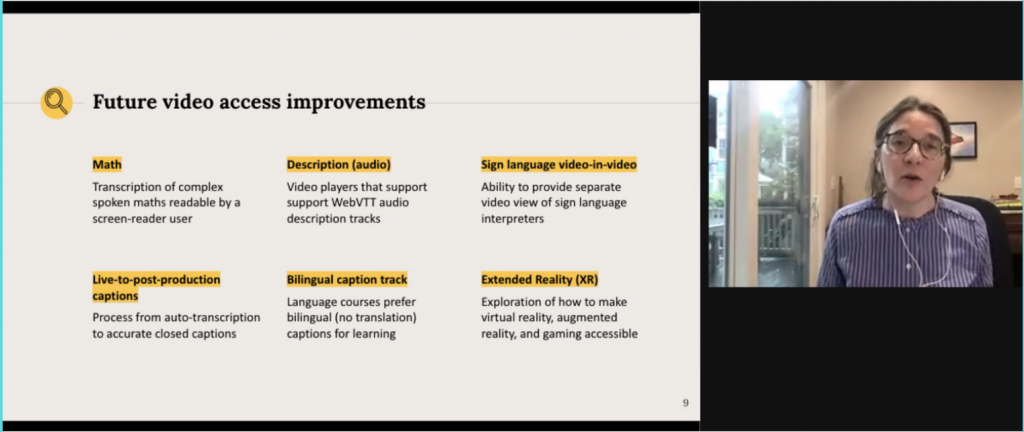 During his presentation and Q&A session Thomas Dieste (Amberscript, The Netherlands) presented the results of Amberscript's recent research into the implementation of accessibility measures in 175 universities that revealed that 75% of university lectures are inaccessible for students with auditory impairments.
The presentation sessions were followed by thought-provoking discussions about technical options and challenging choices, designing for access, and future trends and challenges including how to bring senior management on board when considering the necessary resources to support accessibility.
The discussion was joined by our colleagues from different European institutions who are facing the same challenges that all our presenters identified, namely how to deal with the huge volume of videos produced and ensure that they're all accessible.
Even though we had participants from different European universities, not a single institution seemed to be bound by or fully compliant with the EU Directive that requires 100% accurate captioning and audio description. Mission impossible? Not necessarily! Mike Wald believes that reviewing institution's approach annualy "as technological advances and pedagogical approaches could make 100% accurate captions and audio description feasible, noting that human checking will always be required".
We're planning to host another event in a year's time to discuss changes Higher Education institutions will make to make their video content more accessible. Stay tuned!