At Maastricht University (UM), a growing number of teachers appreciate the value of student generated video. They have discovered how a video can complement or serve as an alternative for an essay, test, presentation, demonstrations of a skill or experiment, and other types of assignments. Moreover, student generated videos relate to the core principles of problem based learning, as taught in Maastricht University; namely that learning should be constructive, collaborative, contextual, and self-directed.
Underpinning theory
Constructive: The process of video creation starts with research and knowledge acquisition and requires that students translate their knowledge to a different medium, activate prior knowledge, elaborate upon it and construct their own knowledge. This leads to a deeper, richer understanding and a better use of knowledge.
Collaborative: UM teachers who ask their students to create videos, often do so asa collaborative assignment for groups of three to four students. The process of creating a video requires negotiation and collaboration, and requires that students contribute their own particular skill. Each group member may excel in a different skill: writing a script, filming, performing, presenting, drawing, editing, etc.. These interactions positively influence learning and help develop 21st century skills.
Contextual: The topic of a topic, or a skill that relates to a students' specialisation, or is professionally relevant, and viewed from multiple perspectives, translates into a contextual and authentic process, and stimulates the transfer of knowledge.
Self-directed: The video creation process is a self-directed learning process, as it requires that students select a topic and a suitable format, and use their organisational skills.
Two examples
Student Generated Video Pitches
One successful example are the student generated video pitches, assigned by Nardo de Vries at the School of Business and Economics, as part of the course Entrepreneurship and Small Business Management.Students are divided into small groups of three to four students, and asked to come up with a business idea and pitch it to their classmates by means of a short two-minute video. Students then watch and rate one another's videos.
The pitched business idea most peers choose to invest in, will win the competition. In addition to the business pitch competition, tutors will grade the presented business concepts.
Student Generated Documentary
Gisèlle Bosse assigns a BBC-style documentary to her Political Science master students. This video is an assignment for the Course Civil Society and European Integration, and the last assignment before students start on their thesis. Students are asked to research and analyse an EU instrument of choice from three different viewpoints: that of a politician, a scientist and an EU citizen. They should then convey their findings in a BBC-style documentary. Previously, when the medium used for the same assignment was an essay, students were not motivated; they generally just wanted to get the course over with and start on their thesis.
The video assignment successfully motivates student to put real effort into their last assignment. Moreover, it provides them with a tangible product of their learning. They can use it in their CV, professional portfolio or profile, after graduation. Finally, Dr. Bosse asserts that it enhances deep learning and 21st skill development.
Bloom taxonomy: When relating student generated video toBloom taxonomy, it applies to the highest levels of learning, involving the application, analyses, evaluation and creation of knowledge.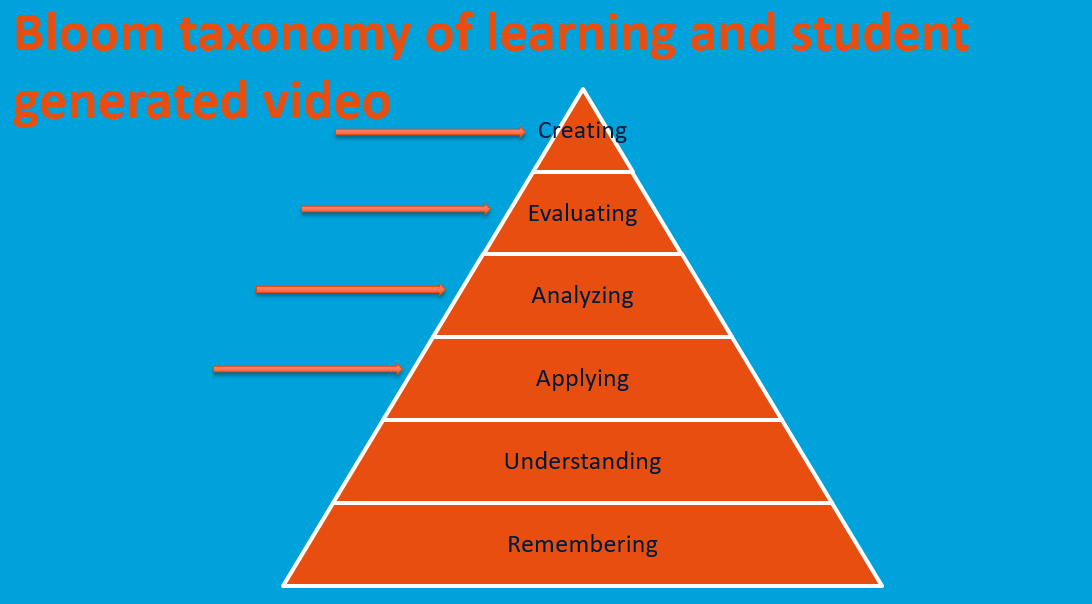 Skills development: Moreover, it promotes the development of 21st century skills: digital skills, such as editing and recording; information skills, such as finding information and critical assessment; interpersonal skills, such as collaboration, leadership, communication, persuasion, and negotiation; academic skills, such as presentation skills and the ability to distinguish main and side issues.
In short, there are numerous reasons to use student generated video in an active and constructivist learning environment, such as problem based learning. If you are interested to more about read about practices by Dr. Giselle Bosse, Dr. Kai Heidemann and Nardo de Vries, go toVideUM, the Maastricht University video portal.