by Zac Woolfitt, Inholland University, the Netherlands.
What are the next developments in the Hybrid Virtual Classroom? What kind of spaces might we be teaching and learning in soon?
On March 16th we glimpsed the future. Colleagues from 4 higher education institutes gave virtual tours of their technology rich learning spaces in Belgium, England, Finland and the Netherlands. Media and Learning arranged the session. (Disclosure: I am on their advisory panel of Media and Learning).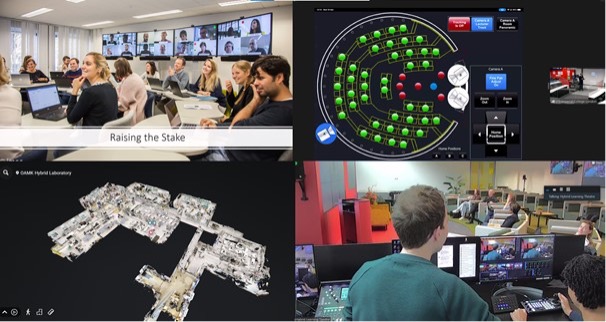 This article focuses on the technical set-ups and showcases the learning spaces. The pedagogical perspective will be covered in a later article and I am running a session about teaching in the Hybrid Virtual Classroom on May 12th).
In a hybrid virtual classroom (also referred to as synchronous or hybrid education), the teacher and students in the class are joined live by other students online. This format has already existed for several years. The pandemic greatly accelerated this development. Higher education found ways to continue running their courses during the pandemic. Online and offline student groups were combined to interact in various formats.
University of Amsterdam – Hybrid Virtual Theatre
Gerben Groeneveld of the University of Amsterdam presented their Hybrid Virtual Theatre. Their Facutly of Economics and Business developed this to improve the quality of lectures during covid. Their bachelor programmes often have lectures with more than 1000 students. The theatre format creates a more intimate setting than a large lecture hall. Those online can interact with the teacher and an audience of 20-30 in the room.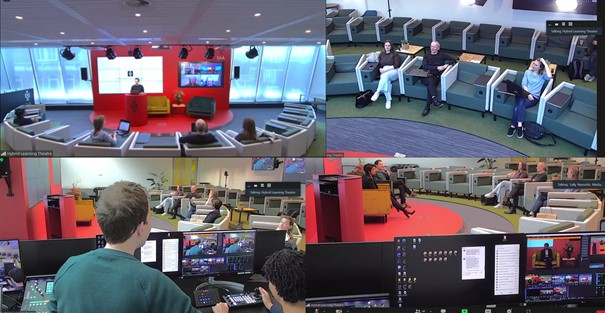 The budget was 480,000 Euros. The room has a full-time technician in and a budget for 3 staff working 3-4 days a week for the studio has been allocated. That may seem a lot of money, but when it used by many students it can have benefits. The latest iteration has more chairs, several cameras and ceiling microphones. It has been recognized as a creative solution for learning space innovation. The format allows for international students to join remotely, or expert guest lectures to participate. Its particular strength as a learning space is when there is interaction and discussion between those in the room, online and with the lecturer. As we hopefully move to a post-pandemic stage, the room will be used for more 'event based' activities or for courses specifically designed for this context. The smaller discussions can be heard and streamed to a much larger group. In a survey of 188 students the response was positive. Those online rated it a 7, those in the room an 8.5 and the teachers gave it a 9. There is always room for improvement and there may be degree of novelty. However, the fact that lessons continued, and the system worked are credit to all involved.
The room has 5 cameras that can track and be controlled from a fairly complicated looking mixing desk. Does the layout and type of chairs invite discussion in the room? Yes, according to those who teach there. The ceiling microphones pick up the sound in the room so during the discussion, if someone at the back of the room is talking, this can be heard by all. The 30 seats in the theatre are available on a first-come, first-served basis. Usually, the same dedicated students come each week and it is rarely oversubscribed.
Pushpika Vishwanathan was one of the room designers and she explained how both the course and her teaching have changed (see my report of a previous presentation she gave). The design involves transforming an old exam hall to a television style studio. Pushpika is at ease as she interacts with our webinar audience. She has been using this format intensively, for the bachelor course with more than 1000 students online, to masters and MBA courses. She thinks the highest benefit is in the bachelor programme where intimacy and engagement are created with a large group. Those who attend in person are highly motivated which leads to dynamic interaction in the room. This also makes the online viewing more interesting (think of a really good BBC 'Question Time' audience discussion!). This format has changed the way she teaches in order to make the course, and to optimize the room setting. And from her experience, one way sending of information does not work in this context. The approach should focus on lessons be interactive, with different assignments, breakout rooms, polls, discussion and feedback on student questions. The students at home really value the opportunity to be able to join online, those in the class are engaged and feel less distracted. This is a better experience for every type of student, depending on their needs. The students joining online via the screen (video wall) can be distracting for those in the room. So, finding the right place to position this group (at the side perhaps) could focus the attention. It is important to use the names of those joining on line, but this can be difficult to read from the screen if there are many faces.
All in all, this is an impressive example of what is possible. It may be beyond the budget of many institutions, but it is an excellent way to engage a large audience in an interactive setting while developing an original pedagogical approach that utilises the affordances of this technology rich learning space.
KU Leuven
Frederik van der Plas of KU Lueven took us through some of their rooms. KU Leuven has about 60,000 students spread over several locations in Flanders. They have a strong regional presence. The main location is in Leuven, but their multicampus approach bridges space and time. This means some of the reasons to develop this format were already there due to their organisational structure. The pandemic forced them to consider scaling for current and future use.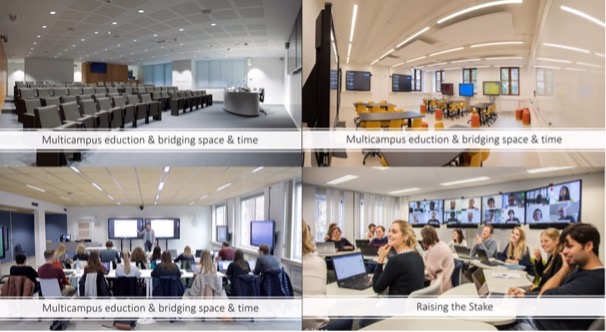 On their master's in education, students are scattered across Flanders. Students had to join class from all the hubs and their room format allowed this. Beforethe pandemic, the Imec and Itec collaboration had built a top level Virtual Hybrid Classroom (Raising the Stake) in Kortrijk. This format has students in the room, and life-sized student heads joining via screens at the back. I have visited this space and the interaction between those in the room and online worked well. The costs are quite high but this is another good example. This format was referred to as 'beautiful', but the challenge is to find a way to scale it in a way that benefit most students.
Another option involved forced by the pandemic involved emergency scaling. This was an emergency measure but did allow for teaching to continue though this format has its limits. Scaling for future use involved installing lecture capture in the rooms, using Kaltura for video content and live stream. This allowed for one way streaming of contact to users online. Video conferencing on premises was arranged by Skype for Business and hosted video conferencing through MS Teams. The challenge remains how to find an affordable way to scale for future use. Many of their rooms now have hybrid options, but they're currently describing possible new standards for seminar rooms. They plan to upgrade 40 rooms adding tracking cameras and wireless microphones. He furthermore framed the need for such rooms asking whether a contingency plan is needed in institutions, whether accessibility and flexibility and possible other expectations are future game changers and whether instructors find new opportunities for collaboration in synchronous hybrid education.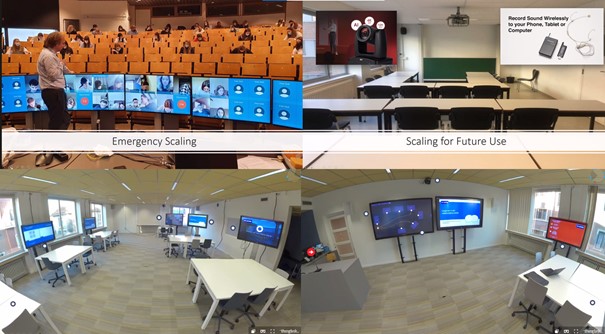 During the tour we were shown some of their collaborative learning spaces. This room has six During the tour we were shown some of their collaborative learning spaces. This room has six tables each with its own screens that can be accessed wirelessly and allows for group collaborative work and sharing content onto screens for all to see. These rooms have proved popular and well booked. The images from various screens can be collected on one screen to show and compare. These smaller rooms are being continually rethought, with ideas to still focus on campus education with a lot of attention to groups and interaction. This needs to be systemised and streamlined. It only works when a set of educational and audio-visual 'standards' can be described.
The technology in was mentioned as being simple enough to use and not over complex. The The technology in them was mentioned as being simple enough to use and not over complex. The collaborative function of the rooms was very desired. But you do need to have support and clearly discuss responsibilities for running these classrooms. Initially this involves providing 'Micro Support', at a one to one level with academics. In the collaborative spaces there were no ceiling microphones, but they are experimenting with Catch Boxes which have been used well in larger settings. Students like these spaces very much and quickly adapt to the screen sharing and functionality which allows for bringing your own device or using the campus technology.
Imperial College London – Hybrid at Scale
Caroline Carter and Duncan Mclachlan of Imperial College London shared their approach to Hybrid. Their 9 locations have 600 rooms and they managed to keep teaching during the pandemic. They use Panopto as their main system and changed from a remote recorder to a personal recorder. They mainly use MS Teams and Zoom. This format was very one-directional. They ran 280 rooms via MS Stream. They added 'media bars' to 100 rooms. These units have a camera, speakers and microphones in one unit. Preference for different rooms is based on what the academics need to do. Rooms with lecture recording system are quite easy to use and allow for clear communication in class due to the good audio system. And this allows for real-time interactivity between the different groups. They have also set up 45 dedicated flex rooms which are linked to either Zoom or MS Teams which are fairly easy to use and work well.
The general conclusion is that hybrid teaching can work well. It will continue in the future and needs ongoing investment and that money should be spent on it. It can give students the impact they want, and the satisfaction of being part of the class without physically being there. These options allow you to cater to the diversity of your wider audience. They chose Zoom for 16 lecture theatres because it had the break out room features, was easy to manage and flexible. They also had configurations with dual projector rooms side by side to compare and contrast. The rooms are supported with training manuals, teaching assistants and support, and also remote and in-person support, on call during teaching sessions.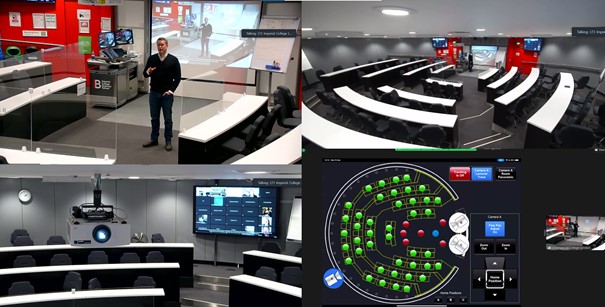 The interactive control panel can be operated from an iPad which controls cameras, tracking, and microphones. If the pandemic had not happened they believe that the hybrid developments would have happened anyway. A lot of video conferencing was already in progress. They already had a purely online MBA. And hybrid makes sense for international groups. Under the pandemic, things happened faster. They also suggested having the gallery screens of online students to the side in order not to distract the other students. But it is difficult to read student names on the screen.
There is a screen on the floor in front of the lecturer. They like to see their slide material clearly in front of them without having to turn around. Through the wireless connection of the iPads it is possible to share doodling and notetaking in a fluent manner. There are some more complex acoustic issues in some rooms that need to be examined by experts to reduce echoes and other sound issues.
The process to start a Zoom meeting is 5 to 7 taps on the iPad which is reasonably simple to use. And this can also be started remotely. Or in the room by 'co-pilots' (student or AV assistants) via phone app. The budget for the room was 65,000 Pounds. Which was equipment added on top of the room that was already there. This was an emergency decision carried out quickly under pressure and that allowed for continuation in education. The lesson does require some preparation in advance to check whether there are external guests joining, which links will be shared, if there is video streamed during the session. This advance preparation allows the academics to focus on their teaching. One academic set up the lesson to join various Zoom break-out rooms so that those in class and online had a more equal experience. Overall it was impressive to see the number of rooms that have been converted, the creativity of the technical solutions, and the fact that many academics embraced these new teaching modes relatively smoothly.
Hybrid Laboratory Oulu University of Applied Sciences, Finland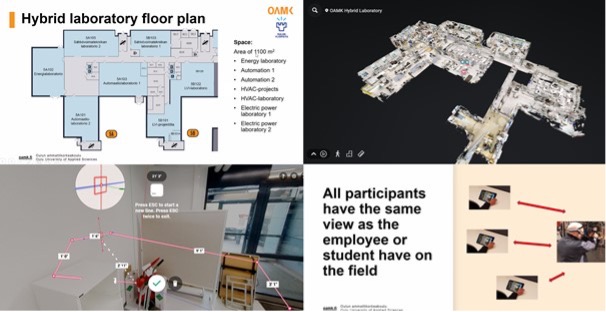 Manne Tervaskanto of Oulu University of Applied Sciences in Finland took us through his Hybrid Laboratory. Their focus is on different types of energy (batteries, solar, generators). Their physical laboratory is 1100 square meters and there is a lot of complicated technical equipment. Their 3d virtual version of their laboratory can be toured here OAMK Hybrid Laboratory (matterport.com).
The laboratory serves many different engineering studies which also allows for hybrid learning between the courses. This final tour gave us insight into what I will call the 'inverted hybrid approach'. If I understood it correctly, using a mobile headset (smart wearable), a student can walk around the physical laboratory, and their perspective is live streamed to remote students. At a certain point, the teacher can intervene, make a screenshot or highlight a certain feature in the physical or digital version, which is visible to all participants. The use of the digital twin of the physical laboratory, can simulate learning through these remote connections. Students do not need to be physically in the laboratory to experiment. They can configure and control the real systems remotely. This is very useful during a pandemic. It also matches the reality of the professional environment in which many technicians operate equipment and problem solve from a remote location. This system was already in operation before the pandemic.
Capturing the 3d spaces took only a few hours per room, using a system call Matterport. Processing the images can take half a day. From a teaching perspectives, students can visit the virtual location multiple times, asynchronously, and develop understanding of the space. When they are actually in the lab, they are trained and know what they should do. Safety routes can be clearly learned in advance. Equipment can be tagged with web links, videos or contact details. Another feature allows you to measure exactly distances between spaces in the 3d virtual lab. The virtual lab is provided by Edukai Remote Services. An explainer video shows the lab in action: https://www.youtube.com/watch?v=hbJFwI0g9ps&feature=youtu.be
In a way, the physical laboratory defines the curriculum which can be worked through in different ways. Student can see the zoom through the student worn camera. Can freeze the screen, draw on the button, those in remote site can see through the wireless display attached to his headset. Which button to press and other students can see it there, or online. Camera
It certainly required some hours of instruction to teach the academics, and then for the students to work out how to use them. It was not that difficult but is a new system. Students of Applied Sciences really want to do the practical aspects, so being online for them can be frustrating. They don't want to stay at home but to be in the lab.
So where to next…?
In the discussion we asked what improvements need to be made. One colleague requested more fluidity to cross over between platforms (e.g., MS Teams and Zoom). Currently there can be a 40-50 week wait from when equipment is ordered and when it arrives. This means sticking to any kind of programme is challenging. More choice of suppliers and equipment would help.
There are simply not enough well-trained personal and support staff who can operate the systems. This is quite a bottleneck. The Audio-visual Specialists are in short supply and if something is broken it can take quite a while to get a reaction to email and then have repairs.
There were also issues about audio which can be a challenge, also in smaller rooms. Getting it right is complicated in a room with lots of interaction. Any audio devices should not be cumbersome for teacher or students. Currently these solutions still need to be developed.

Finding ways to combine collaboration online and on campus remains a challenge. Those presenting here thought that there is more hybrid collaboration than ever before. The solutions provided currently work, but it is expected the demands and context will change in a few years. Some have only been running Hybrid classrooms for less than a year. The feedback from students will provide lots of input. Creating really good hybrid breakout rooms has not yet been solved and the improvement in the technology is not yet there. For some students, it is not easy to learn remotely, and they want to be in class, in contact with fellow students.
With all the technological possibilities, we should not underestimate the importance of making real human connections, and being in the same physical space. That is important and can build friendships for life. The remote cannot replace the physical contact but it is a good alternative.
These four virtual tours inspired me: the future is bright, the future is hybrid!
Author
Zac Woolfitt is a lecturer and researcher at Inholland University in the Netherlands.
Corrections/Adjustments/Comments: I made every effort to accurately represent the webinar content. However, if you have comments, suggestions or corrections please email me at: zac.woolfitt@inholland.nl