by Maxim Grib & Fritz Schmid, University of Erlangen-Nürnberg, Germany.
"The pandemic has accelerated the utilization of digital tools. Online learning will never be the same again. There is a new era of learning and teaching. Smart tools are the future, and we must do it now, not five years later." Dr. Joachim Hornegger – President of Friedrich-Alexander University Erlangen-Nürnberg (FAU).
The events of the last two years have pushed teachers and students out of the lecture halls and into digital platforms. Without meaning to, students have had to put the brakes on their usual study habits, learning in groups, going to lectures, or simply having a cup of coffee with other students. Professors and teaching assistants were forced to invent, improvise and convert face-to-face lectures into digital virtual classes at neck-break speeds.
Now, after a grueling two years, the worst of the pandemic seems to be behind us, and although in-person education is slowly getting back on track, one thing will not disappear: online digital teaching. Due to the rapid transition from traditional learning to digital learning, accessibility and privacy of learning were not a top priority. Even the privacy and accessibility features enforced worldwide by the legislature were often not implemented. Another result of digital learning resulted in millions of hours of high-quality, recorded educational videos stored and available in digital format. These terabytes of video footage are waiting for an opportunity to be revived as new lecture material.
Copal has developed AI-based tools and solutions that address and solve the above three opportunities. Our solution not only offers a high standard of accessibility and privacy but also makes the studying and teaching experience more valuable, smart, and compliant with legal regulations for accessibility and data privacy. Thanks to our products, academic professionals without in-depth technical knowledge of video processing can anonymize every single person in their videos. Using the latest machine learning-based technology, users can blur the facial image, alter the voice, or remove all personal data from the video and audio in a few simple steps.
The other goal is to make education more accessible for all students. The application of AI-based features enables higher individualization of each student's learning experience. So each student can learn at an individual pace based on their ability, interest, and time available. Moreover, thanks to the newest Natural Language Processing algorithms, our tool can transform the vault of recorded videos into new interactive AI-based online courses.
Copal is firmly rooted in the education industry and develops products that are closely aligned with the needs of end customers. Our cooperation with US University in Silicon Valley and German university FAU to develop this start-up is incredibly powerful. The combination of SJSU bringing the idea, start-up culture of speed, venture capital, and beach-head technology customers together with FAU bringing in German technology prowess in the areas of AI and pattern recognition makes this a potent force to reckon with. One plus One becomes Eleven.
Find out more about Copal here.
Editor's note: We are delighted to announce that Maxim and Fritz will be demonstrating Copal at the Media & Learning Conference on 2-3 June in Leuven, Belgium.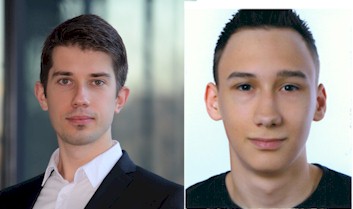 Author
Maxim Grib, Teaching and Research Associate, Department of Internal Management, School of Business, Economics and Society & Fritz Schmid, Department of Computer Science, University of Erlangen-Nürnberg, Germany