As an enthusiastic user of technology, I've incorporated video and other media into my teaching for many years to engage and support my students in both face-to-face sessions and online.
I teach economics at University College London (UCL) and prior to lockdown, I could have had up to 400 students in the room at a time, all in stadium style seating. So, these tools have been essential elements in my toolkit for keeping engagement levels up and encouraging students to play an active role in the learning process.
Teaching through lockdown, I made adaptations to the sessions to better suit an online environment and found new ways of using technology to enhance the learning experience of students studying remotely.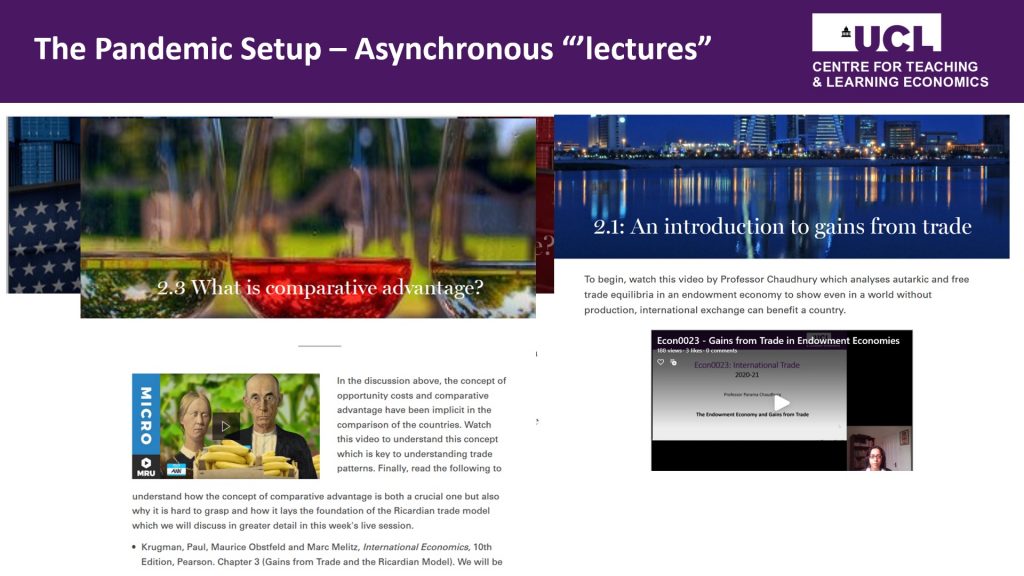 With many universities offering a blend of face-to-face and remote learning in the new academic year, I want to share five key elements of teaching through the pandemic that I believe should continue as more students return to campus.
1. Flexibility
Lockdown has accelerated the move towards a more blended approach to teaching and learning and this could continue for some time. This model can work really well for some students.
Many of my students have appreciated the additional flexibility the move to online learning gave them during the pandemic. It meant they could fit their studies in around other commitments, helping them to stay on track.
Hybrid teaching and learning platforms such as Echo360 support universities like UCL that may want to deliver greater flexibility by enabling them to provide students with a mix of asynchronous and synchronous resources they can use to supplement the time they spend physically in the room with their lecturers and peers.
Crucially, my students have access to a comprehensive video archive of all recorded sessions in one place too, whether they are studying in person or remotely. It means they can re-watch a recording at any time to refresh what they learned in a live lesson or catch up with classes they have missed. This allows more time during face-to-face sessions to be focussed on collaborative learning and other classroom activities that deepen students' knowledge of the subject.
2. Student engagement
The pandemic highlighted the importance of keeping students engaged in what they are learning, whether online or in person.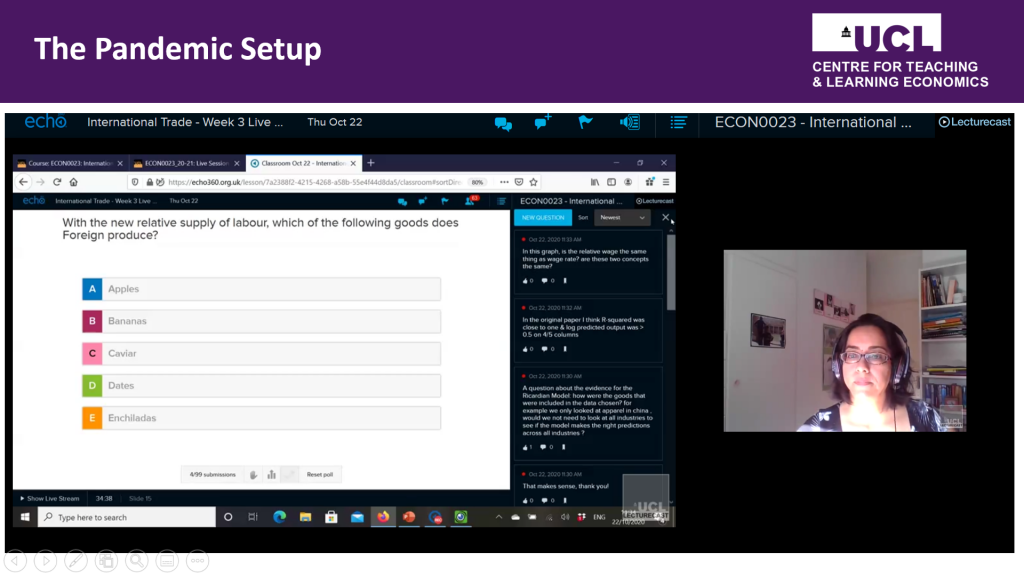 Using quizzing and polling tools, I have embedded interactive activities into both classroom presentations and online sessions. These are recorded too so that students can access them at their convenience.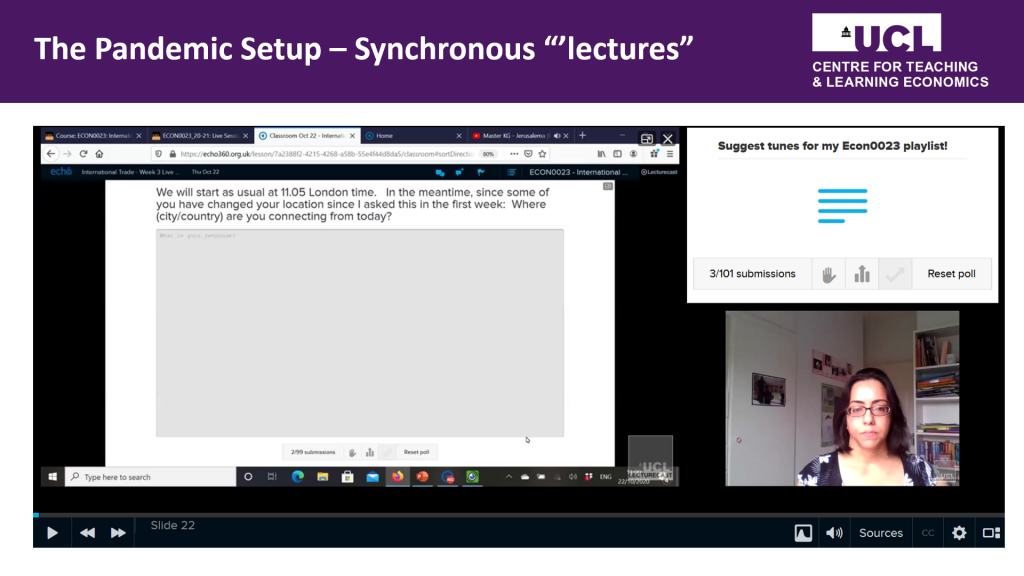 I've found it really useful to incorporate a broad selection of question styles, from multiple choice and ordered lists, to image, numerical and open-ended questions. This makes encouraging interaction much easier, particularly with very large groups.
These question and response tools help to stimulate group discussions and can also be used to assess students' learning quickly and easily either before, during or after the session.
3. Technology that's easy to use
Students, like most of us, don't want to have to go into multiple portals in live or online sessions, so technology needs to integrate with the other systems you use. This will help you to keep the focus on the learning.
With the Economics course resources in one place, and accessible via Moodle, there's no need to log into and out of different systems. In a blended learning model, where both students and staff are logging on to some lessons from a distance, ease of use is essential for delivering a seamless experience.
4. Provide transcripts
One way to enhance students' learning experience is to provide a full transcript and/or captions of what was said in live and online sessions, group discussions, pre-recorded clips and video feedback from instructors.
Transcripts can provide all students with a valuable resource that can be used for revision purposes and they can be essential for supporting students with special needs and disabilities or those who do not speak English as a first language.
5. Make student outcomes the driver for innovation
Great teaching is what improves outcomes for students, whether the learning is delivered face to face or remotely, so technology should always facilitate what you're doing.
The tools you choose should be determined by what you're trying to achieve in the session, what you're comfortable with and what your students are comfortable using. It's the teaching that should always shine through.