Since 2014 The Mind Lab in New Zealand has been helping school teachers to integrate digital tools into their practice through a postgraduate programme in digital and collaborative learning. We use a wide range of digital tools in these classes, and several of these have links to learning in particular places, whether physical or virtual. When we use digital tools for learning we challenge the group to ideate the various ways in which these tools might support their practice, related to the age of their students and the subject areas that they specialise in. Inspired by some of the ideas that teachers were discussing in the classroom, we decided to explore the pedagogical themes that were emerging from the work they were doing with digital tools that relate to a sense of place.
The particular tools that we were interested in exploring were Google Tour Builder, Google Expeditions and Actionbound. These three applications provide very different concepts of place. Tour Builder provides an opportunity for exploring the map-based relationships between different places across the world, while Google Expeditions provides virtual reality experiences of a huge range of digital spaces. In contrast, the essence of Actionbound is that it supports contextual learning in physical spaces using geolocated events and experiences.
The essence of our research was to highlight how teachers have navigated these various dimensions to create meaningful learning experiences for their own students, for example, this Tour created in Tour Builder explores some Iconic sculptures around New Zealand.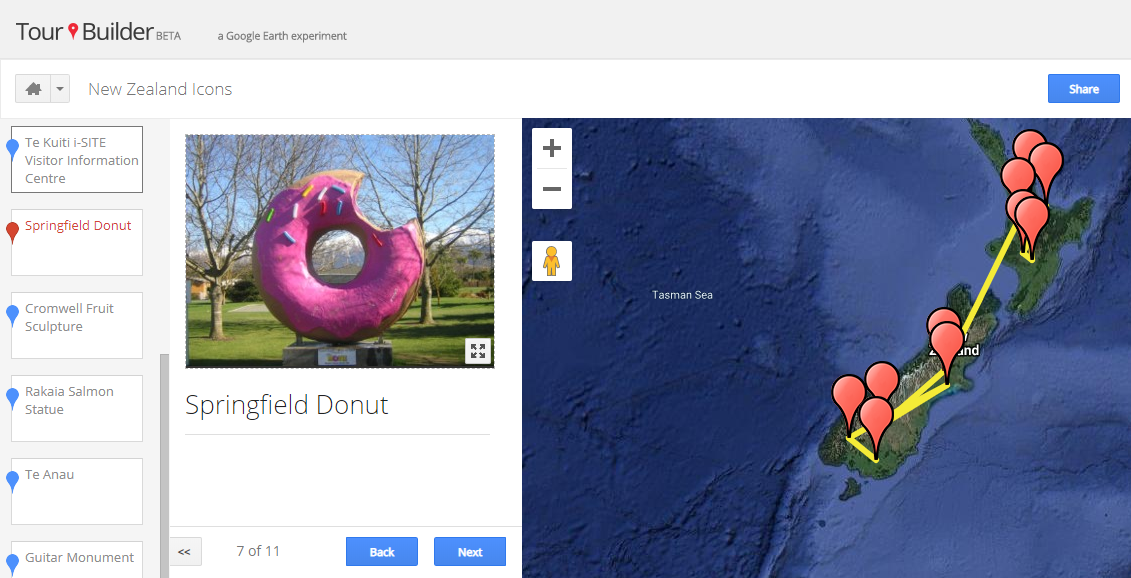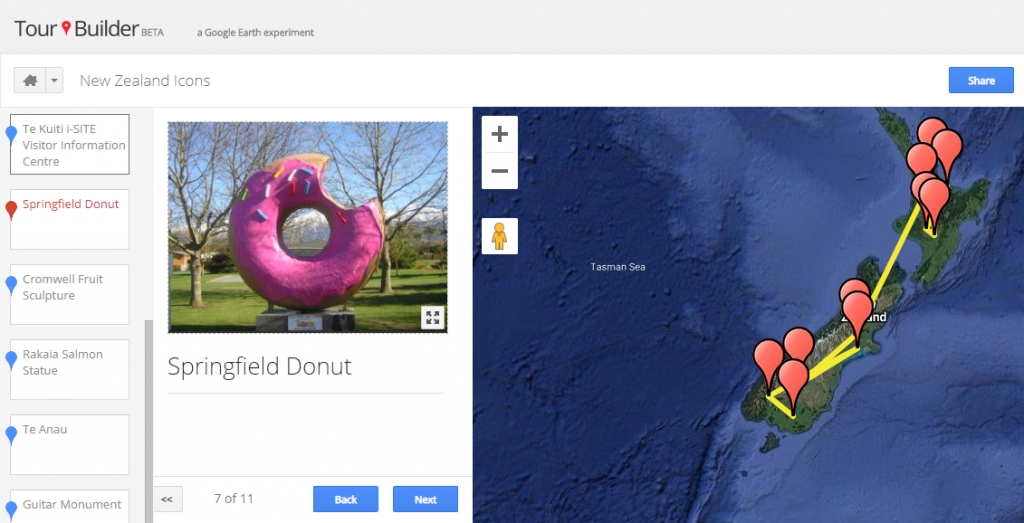 In contrast, another example explored how Christmas is celebrated around the world. In both of these examples there are opportunities for students to share their own knowledge, for example around their own country or their own culture, and also learn new things about their own country and other cultures. The linking of learning material with global navigation helps students to contextualise their knowledge and learning in a world context.
In contrast, ideas created using Actionbound were of necessity closely situated, but nevertheless offered opportunities to explore global themes. One powerful example was a geolocated activity that gave students an experience of what it is like for children in Sudan to have to find and carry water, in an activity that led students through similar tasks and distances in the school grounds. More details on the types of learning experiences created using the various tools can be found in the full article in the Australasian Journal of Educational Technology
In analysing ideas around place-based learning, we noted characteristics of learning in these environments, whether physical or virtual, that helped us to think about how the concept of place operates within technology enhanced learning. For example, one of these concepts is the extent of world knowledge, which basically means how much knowledge the learner already holds about a particular place. If the place is completely unknown, then the potential learning is about creating wholly new knowledge. However, the place may already be very familiar to the learner, which opens up opportunities for students to create and share learning spaces, using digital tools, built from their own knowledge and experience. Between these two extremes there is a mix of the known and the unknown that supports a blend of these learning opportunities.
Another concept that we recognised as being important was the physical accessibility of a place.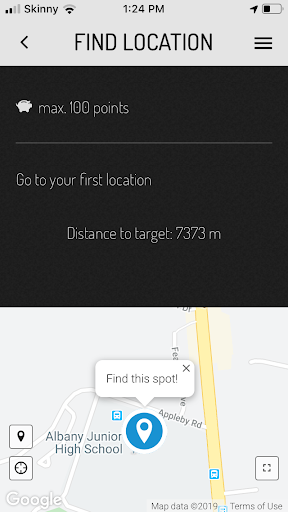 When using a tool like Actionbound, which locates the learner in a specific place through geopositioning or QR codes, physical accessibility is an essential part of the learning experience, because the tool is predicated on the concept of moving into a space to support contextual learning.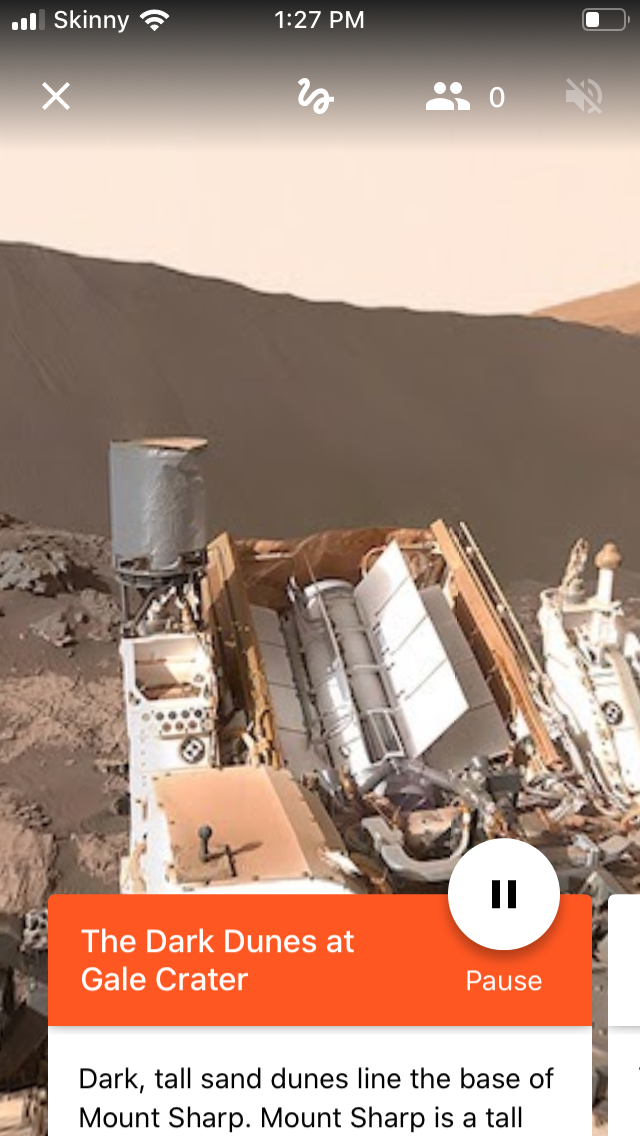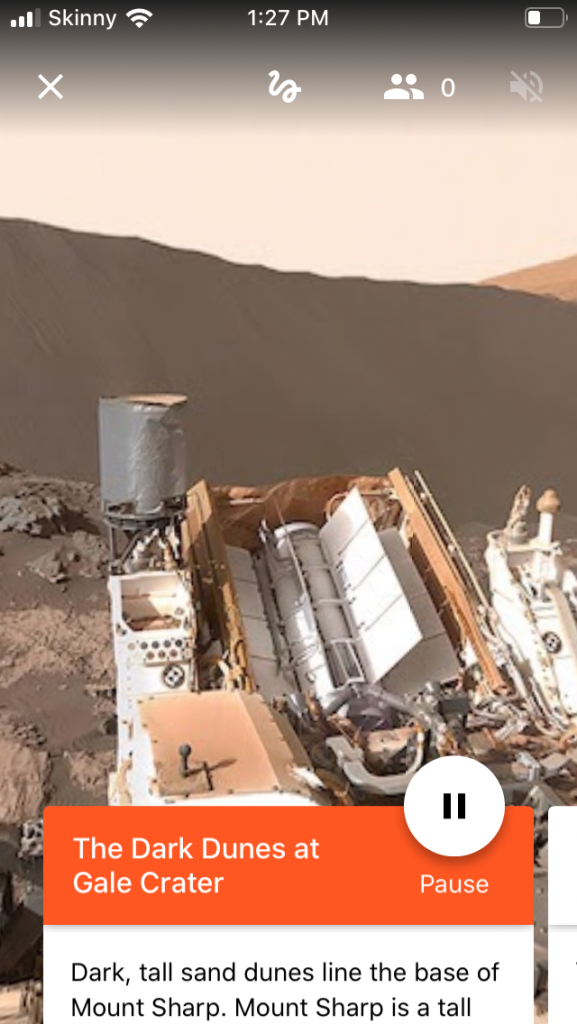 At the other end of the spectrum would be a virtual reality experience on Google Expeditions that was physically inaccessible, for example a journey to Mars.
There are, however, valuable links between these two concepts. For example, students may precede a field trip to a physical space by first experiencing a virtual trip to that same space, enhancing their understanding of where they are going and making the most of their physical place-based experience.
A third concept is the extent to which place-based experiences are designed by the teacher, created by the students or co-created together. Both Tour Builder and Actionbound provide tools for learners to create their own tours and experiences, and since completing our study, Google has released Tour Creator which allows anyone to create their own Expeditions and we have subsequently been using this tool in our learning sessions.
As technology continues to evolve, we hope to explore new ideas around digital environments that relate to multiple concepts of place and its role in learning.