By Alexandra Mihai, Maastricht University, the Netherlands, Laura Czerniewicz, University of Cape Town, South Africa and Deborah Arnold, AUNEGe, France.
At the Media & Learning online conference in November 2021, we joined forces to explore the changing role of Centres for Teaching and Learning (CTLs), and their interactions with learning technology and audiovisual support units.
Prior to the conference, we ran a short survey with Media & Learning members and the wider community to gain a first snapshot of the main characteristics of such centres, in terms of identity and name, location and structure, roles, mission and activities, as well as to identify challenges and opportunities in the post-pandemic higher education world. We obtained 51 responses from the survey, which were completed by several live responses during the session itself.
Lightning summary
CTLs brought into the spotlight by the Covid-19 pandemic
Very diverse landscape in terms of structures, resources, roles
Interesting identity; "third space"
Role and place of digital education teams (link between pedagogy & technology)
Effectiveness & visibility
Link to research/ evidence-based practices
CTLs during the pandemic
How about the future?
What's in a name? Structure and location
Faculty development and support is a very diverse topic and universities have established different types of structures to address the existing needs. The amount of human and financial resources allocated for this purpose differs largely, so we are dealing with a very diverse landscape, where some universities have one or two people (sometimes formally calling themselves a Centre) doing educational development work, some have none- or at least had none before the pandemic, and other, (usually) larger universities have sizeable teams in charge of teaching and learning support. Besides coming in different shapes, these units also come under a variety of names, such as Centre for Teaching Innovation, Centre for Educational Development, Learning Academy, Centre for Teaching, Learning and Technology, Centre for Teaching Support and Innovation, etc.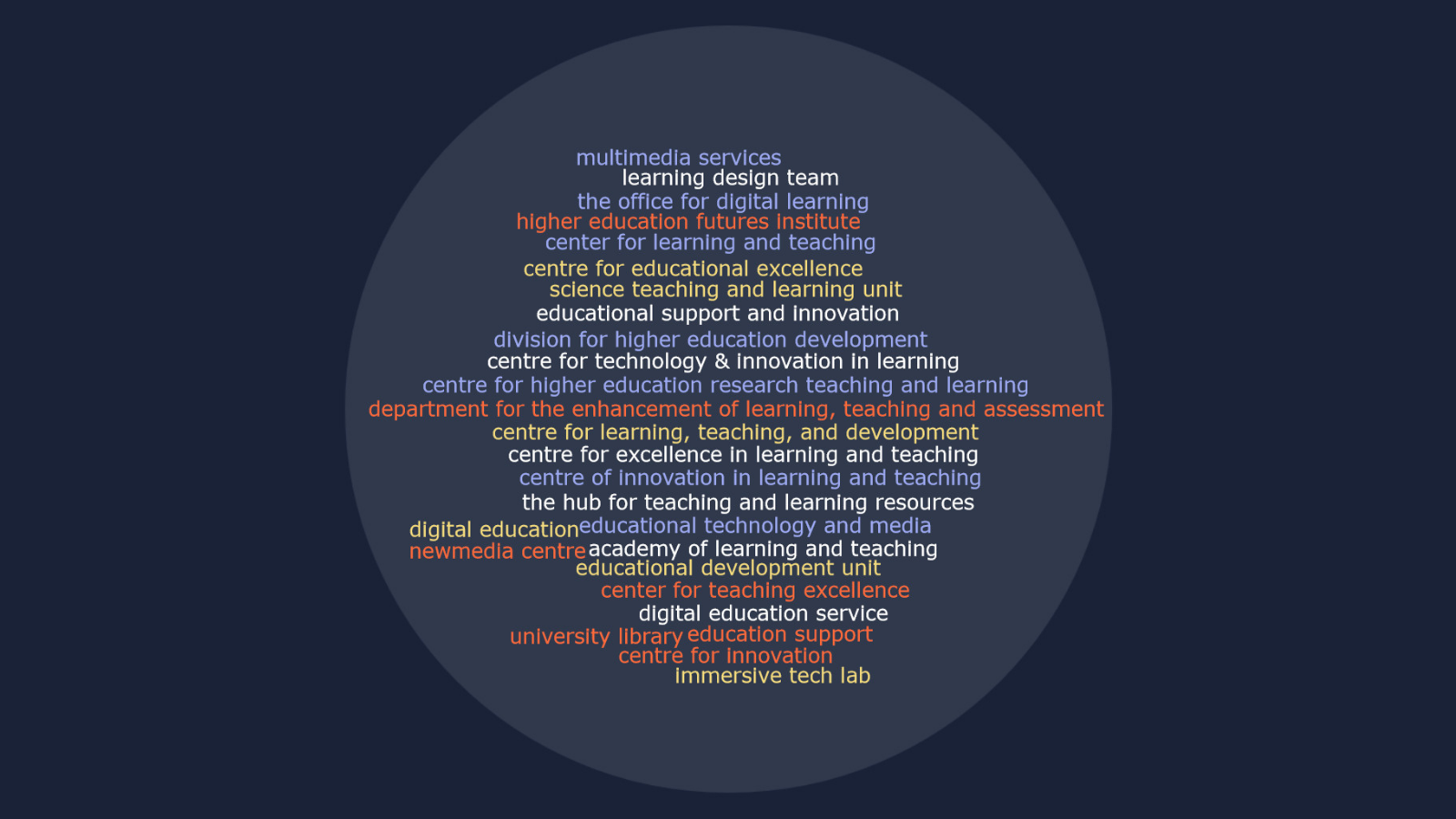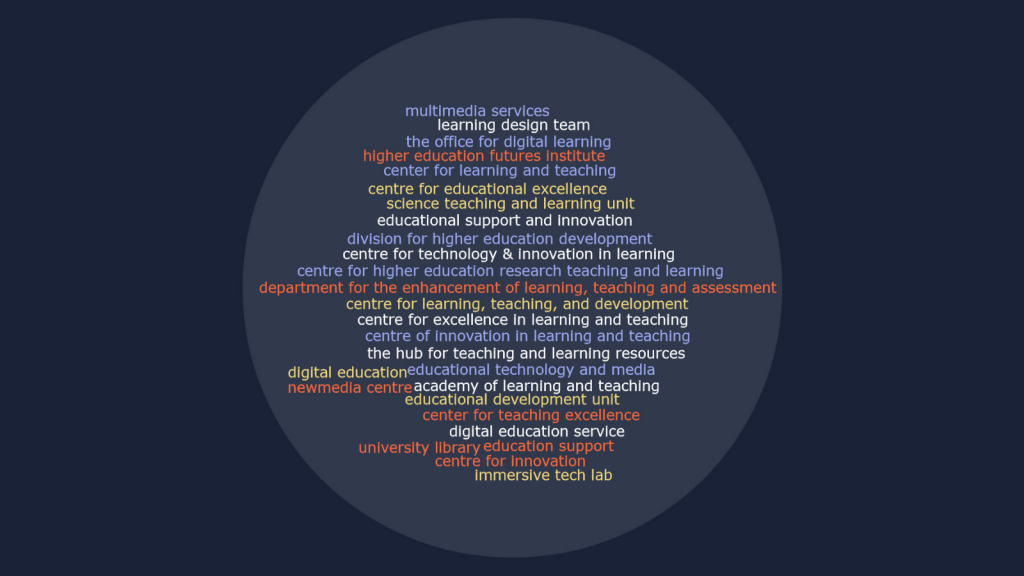 The way faculty development and support is organised is very context-specific. Some universities have dedicated Teaching and Learning Centres at central level, while some others take a more decentralised approach, leaving it to faculty or department level. In some cases, structures at both levels coexist and share the workload, which requires a high degree of coordination. Moreover, some CTLs are actually research departments; this gives them the advantage of being embedded in the faculty structures, as well as being able to create synergies between evidence-based research and the faculty development work.
In some universities the teams specialised in digital education are part of these Centres, in other cases they belong to the central information services. In the latter case this means that while people working in the CTLs are part of the academic side (or at least somehow embedded into it), digital education teams are part of the administration. This adds an extra level of complexity to their interactions, not least because of the perceptions (and expectations) regarding their roles.
Activities
The activities covered by the different centres and units identified by respondents to the snapshot survey are very varied, with almost 80% involved in pedagogical support or technical support. These areas were followed closely by staff development, whether for learning and teaching or technical (over 60%). Audiovisual production, evaluation and research came in third position, at around 50%. The least-mentioned activities, at just under 30%, were Learning Analytics and evaluation.
Roles, missions and activities in "third space"
We can get a finer picture of these activities, roles and missions by applying the concept of "Third space" (Whitchurch, 2008). This is defined as "a space in which many experts (both professional and academic) engage in collaborative activity that integrates multiple expertise" (Jones et al. 2014, p. 419). As academic development and digital education support are both areas where such multiple expertise is required, the following diagram was put forward during the conference panel as a potential positioning of these different roles, missions and activities, and gave rise to much discussion. Of course, this is simply a proposal, and something which needs to be confirmed through further research.
Challenges
The survey revealed that CTLs had experienced challenges of staff stress, centre funding, structural constraints and concerns about harms.
Issues of stress included deep fatigue described in various terms including burnout, deep tiredness and being over extended. Centre staff felt unappreciated and invisible, with insufficient recognition for what they do. There was also mention of high numbers of staff resigning.
Centres also were extremely concerned about funding and finances, mentioning lack of budgets and budget crises some of which were pandemic induced. There was also the problem of needing additional staff to support emergency remote teaching but without the required resources. A linked challenge was that of capacity and the inability to meet academics' needs and expectations. There was a concern that Centre staff did not in fact have the expertise they were required to draw on to support the online pivot.
Some of the challenges were structural with reference to silos, insufficient communication and decentralisation being problems. There was also mention of a lack of high-level direction as well as the difficulties of responding to centralised directives.
There were concerns about harms, firstly to the digital education project, i.e. that the kind of remote teaching necessitated by the sudden shift online would increase already existing scepticism of teaching online as well as create new doubts about it.
There were also concerns about harms to the educational project as well as concerns that the work staff were doing would contribute to educational inequities. Finally, there were concerns about the ways that the work done by centres was being driven by discourses of higher education which centre staff found problematic.
Opportunities
On the positive side, some Centre staff saw the sudden shift online as a catalyst and an opportunity for growth and innovation. They felt that they themselves were improving their own skills and that their centres would have a chance to rethink their focus and become more innovative.
They saw the changes brought by the pandemic as an opportunity for improvement: technically (especially in terms of design skills) and more generally as an opportunity for innovation and rethinking the work of the Centre.
They found that their work had become better understood and that their centres had become more visible. The view was that CTLs would be in a better position going forward post the pandemic.
Other positive aspects identified included the increased use of open educational resources, a recognition of the need for flexibility and improved relationships between academics and educational professionals.
Conclusion
Even though this was a small-scale snapshot survey, it provided valuable insights into the diverse identities, structures and roles of CTLs, and their interactions with other related units such as educational technology and media production. The survey also helped to surface the many challenges currently faced by CTL staff, not least considerable stress, a lack of resources to meet ever-increasing demands compounded by the pandemic, and a mismatch between CTL staff's values and institutional discourse. On a positive note, the survey identified opportunities for innovation, greater visibility and understanding of CTLs, and improved collaboration between different units. These initial findings will be further investigated as part of a full-scale research project, the results of which we are looking forward to sharing with the Media & Learning community and beyond.