By Barbara Quarta, Science Education Department of European Schoolnet (EUN)
Scientix, the science education community in Europe, is preparing for an autumn full of opportunities for all STEM enthusiasts.
For more than ten years Scientix has been promoting and supporting collaboration among STEM (science, technology, engineering and maths) teachers, education researchers, policymakers and other STEM education professionals all over Europe and beyond. This year's autumn promises to be one of the busiest yet for the organization.
The 4th Scientix Conference will be held online 18/19 November 2022. Limited to 2,000 attendees, the goal of the conference is to provide an overview of the challenges and opportunities in science education in Europe and highlight the potential synergies available in the Scientix community. The Scientix Conference call for contributions is now open for those interested in contributing presentations, posters, or hands-on workshops on STEM education projects and initiatives during the various sessions of the conference. Deadline to submit proposals is 17 August. Participation in the conference is free of charge and by registration only. Stay tuned – registration will open in early September.
Among other opportunities Scientix offers to STEM projects is an open call to lead workshops during the new round of Science Project Online Workshops (SPOWs), which launch at the end of September. The Call for applications for these SPOWs is open until 28 August.
Scientix isn't just for STEM teachers – it also offers professional development to their colleagues. The new Scientix MOOC "STEM out of the box: a STEM approach to non-STEM subjects" will start on 12 September and registrations are open now. As its title suggests, in this online course teachers from non-STEM fields will learn how to integrate STEM into their lessons and help students develop deep scientific, mathematic, and problem-solving skills. The MOOC is designed for teachers working in early childhood, primary and secondary education. Non-STEM teachers who piloted this MOOC reported great successes in introducing scientific, higher-order thinking into their lessons and connecting classroom learning with real-world problems.
For teachers who already miss their STEM classes during their holidays, there's the summer special of ScientixTV. This online show's third episode deals with a topic that may be on teachers' minds already: summer learning loss, also called the 'summer slide'. It's the theme of the latest Scientix newsletter, too. Scientix welcomes feedback about this new endeavour on all social media channels, with the hashtag #ScientixTV.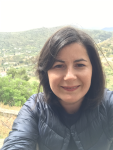 Author
Barbara Quarta works as a Project Manager in the Science Education Department of European Schoolnet (EUN)