It is a fact that social media offer both opportunities and risks, and this poses numerous challenges and dilemmas for parents, carers and educators. While they wish to offer children enough opportunities for learning, creativity, participation, socialisation and personal growth, they often struggle to strike the right level of protection for them. School professionals are uniquely positioned to reach and help children and their families to better understand social media and to encourage their healthy and positive use. And yet, few educators feel well-prepared to support children and the wider school community to improve their digital and social media literacy skills.
Our Project
Social Media Literacy for Change (sml4change) was a one-year pilot project co-ordinated by European Schoolnet and co-funded by the European Commission under the Media Literacy for All programme. The project aimed to support European school leaders and teachers to foster social media literacy (SML) in both their school and local community. By working closely with 25 teachers from 13 European countries during the academic year 2018-2019 we were able to better understand the realities of schools across Europe and the challenges they face related to social media. One thing became apparent very early: teachers feel the pressure to be better able to educate their pupils to become responsible, creative and skilful users of social media. But at the same time, they also expressed their concerns and frustrations when reflecting on potential ways to meaningfully incorporate social media literacy at school.
What we've learnt
The challenges for social media literacy at European schools are manifold. Schools' missions, visions and values are as diverse as the schools' populations, their environments and their needs. This diversity impacts the ways in which schools make sense of social media literacy and of their responsibility to foster it at school. For this reason, we cannot expect a one-fits-all social media literacy curriculum or educational programme to cater for the needs of all European schools. In a context where social media and digital technologies evolve faster than ever before, solid guidance that helps schools to make informed decisions about social media and social media education is seriously lacking. What is also critical is to understand that social media literacy implies much more than scattered efforts by individual teachers. A coherent and strategic approach towards (social) media literacy that is built by the members of the school community is needed. By having a clear vision about what they want to achieve, schools will be better able to meaningfully incorporate social media literacy efforts in the curriculum, across subjects and in extracurricular activities or projects. This will help them to prioritise their usually limited resources by investing time and effort on those aspects that truly matter to their school community.
The sml4change project supported teachers and school leaders to reflect on the individual social media landscape of their school and guided them to develop medium and long-term strategies (3 to 5 years) to enhance the social media literacy oftheir school community. In a nutshell, the sml4change project consisted of two main lines of work:
Supporting selected European schools in the process of developing a Social Media Literacy (SML) Strategic Plan for their school. Out of the 25 participating schools, 22 succeeded in developing a social media literacy (SML) strategy. An analysis of these strategies showed that although schools share common interests and challenges about social media literacy, their priorities differ substantially depending on the schools' unique working environment, the school climate, school policies, the curriculum and the staff's interest and competences, among others. This diversity was reflected in the social media literacy strategies developed by the participating schools. These featured areas of interest as diverse as school staff training, educating parents about social media or co- developing social media school policies with students.
Co-developing the multilingual Social Media Literacy for Change online course (sml4change MOOC). This online capacity building tool aimed to empower school leaders and teachers to develop, implement and assess a whole-school social media literacy. In total, 1,541 participants from 66 countries registered to take part in the MOOC and 947 of them started it. Of all the people who followed the course 236 participants were awarded a certificate. .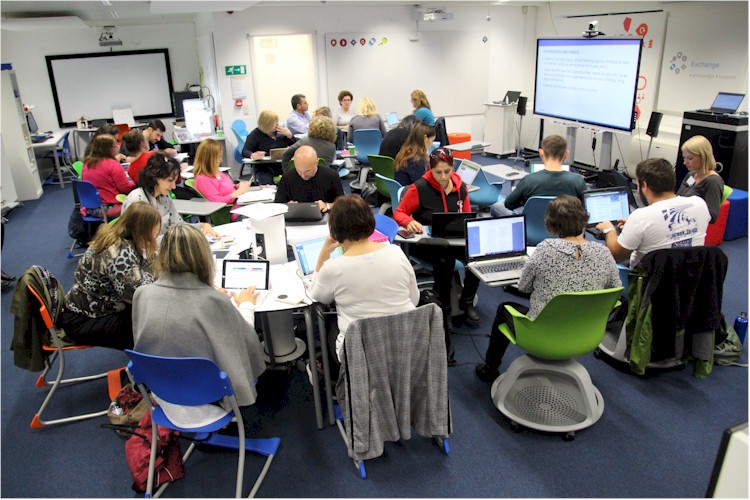 At the end of this 1-year pilot project, we are very satisfied with the results achieved so far. Many of the SML strategies developed under the smal4change project are already being implemented at schools. We sincerely hope that these long-term efforts to increase social media literacy will reach their objectives and will start to be multiplied in Europe and beyond.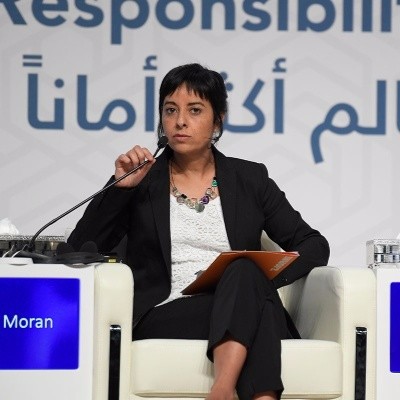 Author
Dr. Verónica Donoso
Project Coordinator
EUN

Verónica'sLinkedIn profile