The concept of Cultural Heritage has evolved in recent decades, and especially since the various initiatives linked to the European Year of Cultural Heritage in 2018. There are many different expressions of this cultural heritage, both tangible and intangible, and European Royal Sites encompass most of them. These are complex spaces of enormous environmental, cultural, touristic and educational value. They are testimonies to historical landscapes, places in which the original flora and fauna have been preserved. They are also suburban centres integrated into natural spaces, each with royal residences that have been preserved as major architectural and artistic complexes. Last but not least, these places contain art collections, libraries, archives, laboratories, and historical manufacturing centres that together make them unique cultural environments.

Royal Sites constitute a valuable treasure that should be preserved, showcased, and their value enhanced through the educational, cultural and tourist benefits they offer, particularly since they tend to exist today somewhat in isolation from their immediate environments. Therefore, it is essential that society becomes aware of them, taking an active part in the conservation of this heritage. It is clear that there is much to be gained from bringing ICT together with education-heritage to enhance the promotion and knowledge of such sites.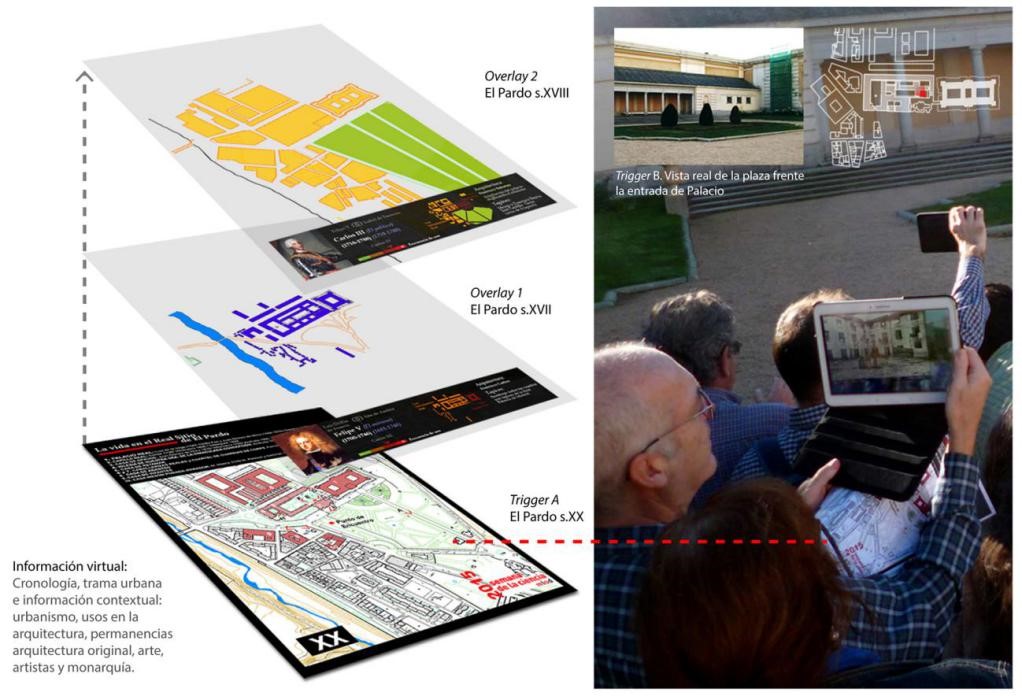 It is based on this premise that the MOOC "Los Sitios Reales como recurso profesional" has been created. It is a course developed by professors and researchers of the research projects "La Herencia de los Reales Sitios" and "Del Patrimonio Dinástico al Patrimonio Nacional: los Sitios Reales", supported by the team of professionals of the department of audiovisual and online productions of the Rey Juan Carlos University (URJC online). In this MOOC, the Spanish Royal Sites, such as Aranjuez, El Escorial, La Granja de San Ildefonso, El Pardo, etc., appear as cultural elements with high didactic possibilities for European students, particularly through their innovative use of ICT.
The MOOC is composed of five modules (one per week), each one developing the possibilities of the Royal Sites as professional resource for different fields: History and other Humanities, Geography, Education, Tourism, and Architecture and ICT. What is particularly interesting in the fields of education and ICT are the third and fifth modules, as they show the potential of the Royal Sites. We are talking about a multitude of resources: virtualisation and digitisation of objects and monuments, QR codes, photogrammetric documentation, 3D reconstructions, Augmented Reality, databases, production of didactic audiovisual materials, MINECRAFT with educative aims, drones, etc.
It is no longer possible to imagine a future in which technology and heritage do not go hand in hand, especially for a digitally native generation. This MOOC, in particular, focuses on the potential of Augmented Reality and audiovisual materials in the reconstruction of the past, with an easy use for young people and children and their adaptation to teaching-learning techniques.
Through ICT, we have a chance to recover the value of the Royal Sites as live documents of past, present and future, meeting students 'increased level of knowledge and allowing them to interpret the role of such sites in terms of history, geography, politics, society, art and architecture. All this, aided by an attractive, enjoyable and rigorous new approach and language.
The third edition of the MOOC "Los Sitios Reales como recurso profesional" will begin on October 23, 2019 on the URJCx platform.
Editor's note: "Los Sitios Reales como recurso profesional" was one of the finalists in this year's MEDEA Awards, recognised for its excellent use of video to support the learning process.