Matt Howcroft, Learning Technologist at the University of Derby, discusses how the Centre for Excellence in Learning and Teaching (CELT) at the University has responded to the Covid-19 crisis.
Within the space of two short weeks, our academic community has made the transition from a predominantly on-campus blended model, to delivering sessions online through facilitated remote delivery. Meaning that, as a Technology Enhanced Learning (TEL) team, many of the approaches we have long encouraged as 'future-focussed' have suddenly become the new normal.
It all started a few weeks ago. The threat of Covid-19 was looming, China was dealing with the first wave, Italy was on lockdown and the virus was inevitably going to make its presence felt in the UK very soon. During this time, the University of Derby's CELT team was already reviewing plans for the potential closure of all its campuses. These plans were ambitious yet measured, but above all hugely important in ensuring the continuity of all the factors which create an outstanding student experience.
The plan for Derby was to enhance digital capability for staff and students to make sure that all teaching staff were able to engage with their students remotely, primarily through the familiarisation (and often re-familiarisation) of the online 'live' teaching tool, Blackboard Collaborate Ultra. Not an altogether easy task within the tight timeframe, so with this in mind the TEL team opted for a dual approach: supporting colleagues at an institutional level through a full schedule of online training sessions, but also engaging directly with individuals and groups within Colleges and departments. The team also had the benefit of being able to work with the University's existing online learning team, which has been a leader in online education for almost two decades.
Even with this strategic focus, making sure that we could comfortably 'reach' all areas of the institution was still a challenge. The UK Government was moving fast; closing schools, introducing social distancing measures and shielding the vulnerable. Within a few days, the University in almost its entirety was working remotely and the TEL team was no different – busily transitioning from face-to-face training, often using the tools we were 'championing', to delivering online sessions to academic staff.
The first week of remote delivery was obviously extremely busy. Sessions delivered included, the basic use of Blackboard Collaborate Ultra, lecture recording technology and virtual classroom polling. In addition to this, we also established a session on the 'Transition to Facilitated Remote Learning Delivery', which we ran as a discussion forum where academics could share good practice and talk freely with one another. Whilst running these central sessions, the TEL team were also supporting Colleges directly, dealing with individual questions across a wide range of platforms, such as Microsoft Teams, Jabber and email, and often running impromptu training sessions for colleagues.
Two weeks on, things have settled somewhat; across the institution facilitated remote learning is happening with lectures taking place online, primarily through Blackboard Collaborate, but also through Teams and our Panopto lecture recording platform. We are still running daily training sessions, however they have naturally transitioned into more informal affairs, where staff are simply sharing their experience so far and best practice. At a College and departmental level there is also much consideration being given to 'next-steps'. Increasingly, these steps include questions around assessment, particularly where assignments include a 'practical' component. We have also been supporting staff on how best to deliver personal tutoring sessions, and, thanks to the Online Learner Advisor model already in place for online learners, we have been able to swiftly provide our remote learners with Personal College Advisors ensuring a transfer of knowledge and expertise again from our colleagues in the Online Learning department. These aspects of the student experience are central to the University's strategic vision, and as such require careful and often complex consideration.
So, what next? Social isolation and lockdown will continue to be reviewed, but I can't see things going 'back to normal' for a while. Perhaps one of the things that this whole period may change forever is the way that lectures are delivered across the sector. Consequentially, more flexibility and remote online delivery may well become the new 'back to normal'.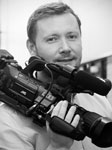 Author
Matt Howcroft,
Learning Technologist, Centre for Excellence in Learning and Teaching (CELT)
University of Derby, UK