by Madeleine Murray, PDST Technology in Education, Ireland.
As the Irish Ministry of Education's agency for digital learning in primary and post primary schools, PDST Technology in Education's remit is supporting the national Digital Strategy for Schools to 2027. This strategy is a continuation of the previous Digital Strategy for Schools and builds upon recent developments in digital learning planning and innovation in Irish schools.
Teacher Professional Learning Opportunities
One of the many objectives of the national strategy is to 'support teachers to strengthen their confidence and competence in using digital technologies in teaching, learning and assessment'.
PDST Technology in Education supports this objective by providing:
We also provide a library of short classroom based videos referred to as videos of good practice. These videos showcase effective uses of digital technologies in teaching, learning and assessment in Irish schools.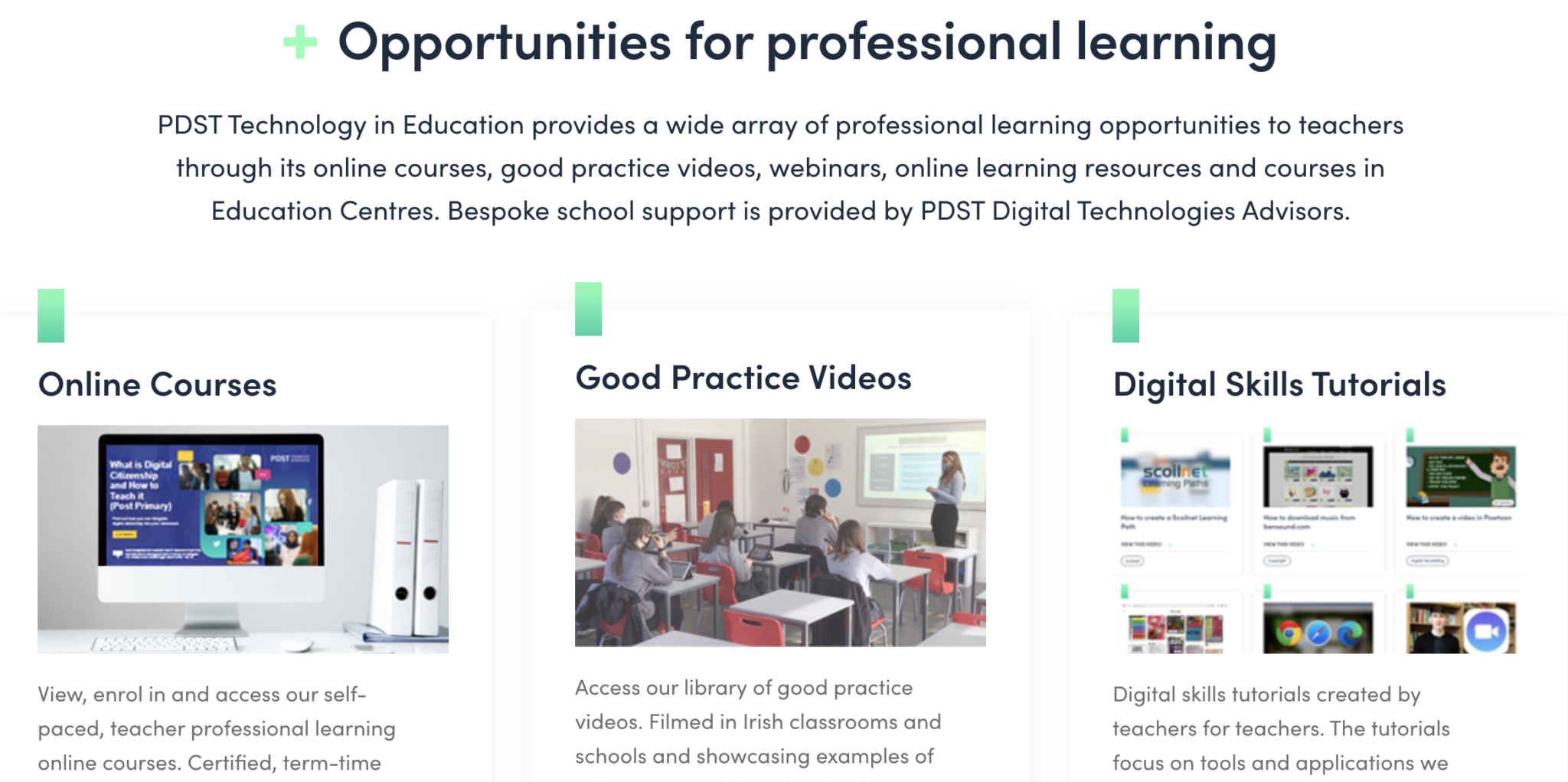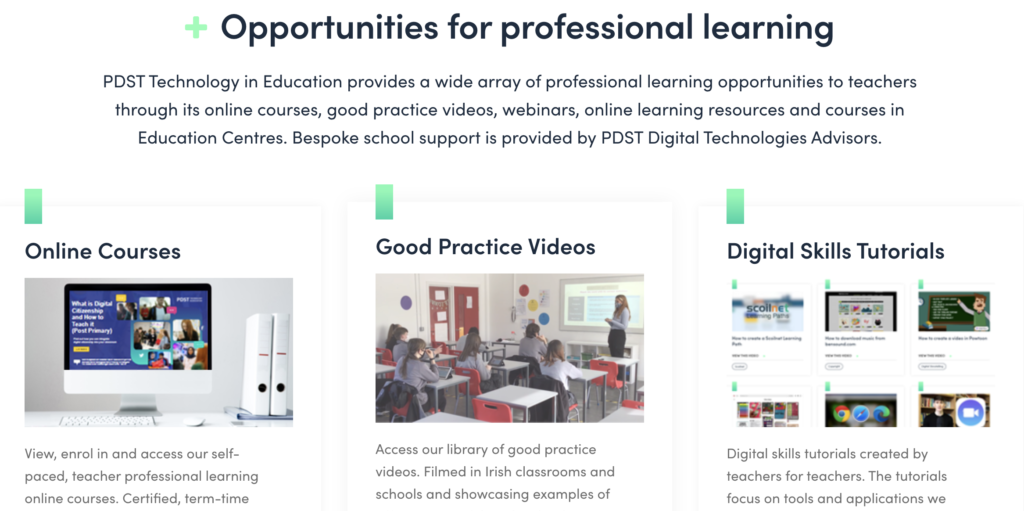 Good Practice Videos
Over 100 videos are now available, hosted both on a dedicated Vimeo channel and on a dedicated page on our PDST Technology in Education website.
Teachers and school leaders use and share the videos in a variety of contexts, including:
staff meetings to inspire and provide examples of effective use
subject and curriculum planning activities
digital learning team meetings and discussions.
Videos are also integrated as examples of practice into our online and face to face courses, and shared with educational partners for their programmes.
Finding Relevant Videos
The full redesign of our PDST Technology in Education website in 2021 provided an opportunity to plan a new interface that would address some of the shortcomings of our original website.
With the growth of our good practice library users were reporting issues with how they were displayed on our website, including being overwhelmed by the large number of videos available and having difficulty finding a video relevant to their specific context
As part of the planned redesign of our website we made it a priority action to provide an improved user experience, so that teachers and school leaders could quickly find videos of relevance to their own context.
New Database & Interface
We addressed the usability issues firstly by creating a new good practice video database, incorporating the following headings:
School level (primary or post primary)
Mapping to the Digital Learning Framework
Topic/s covered (tags)
Descriptions of each video
Language (whether in Irish or English)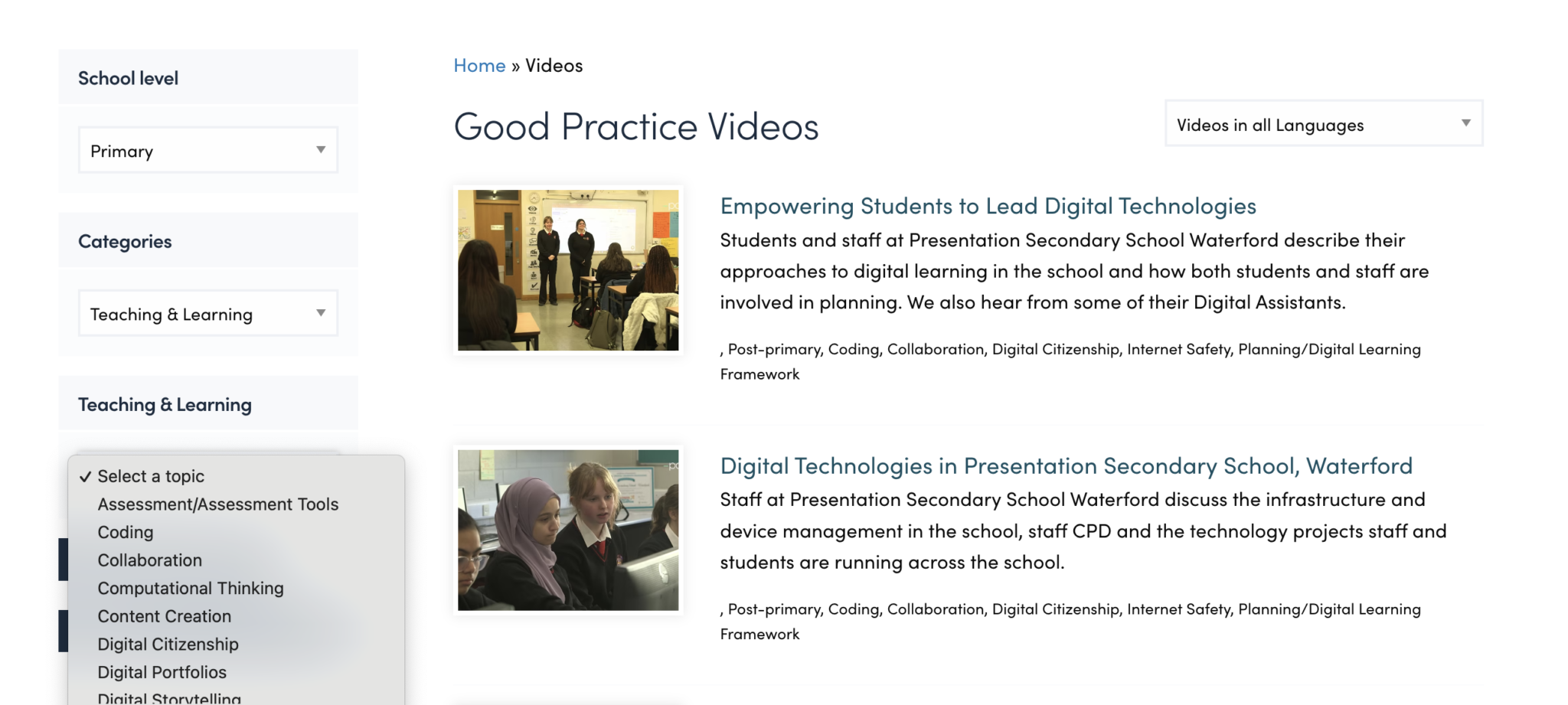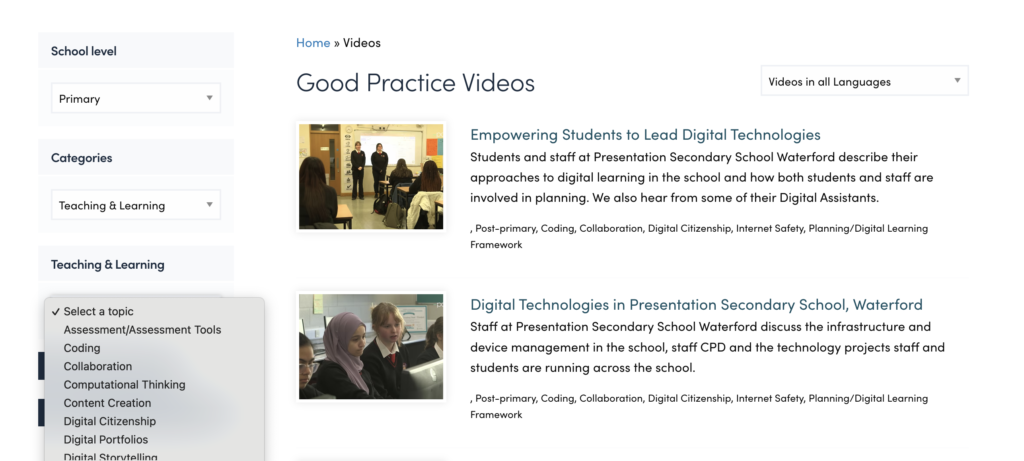 With our website designers' help we designed a simple and intuitive interface allowing users to use filters to find the most relevant videos for their context. The design is in keeping with the overall design approach for the new website.
We launched the new website in April 2022 and initial feedback from users has been positive. We plan to conduct a usability review later in 2023 to identify further areas of improvement.
Growing the collection of videos
Of course there would be no good practice videos without the amazing Irish schools who allow us to capture and share their practice with others.
Our digital technology advisors who provide in school support continue to identify schools of interest for future videos. We are always on the lookout for schools who demonstrate effective digital learning planning practices and/or new and innovative approaches to the use of technology to enhance learning.
We hope to continue to develop this key resource into the future and to encourage its use both as a formal and informal professional learning resource.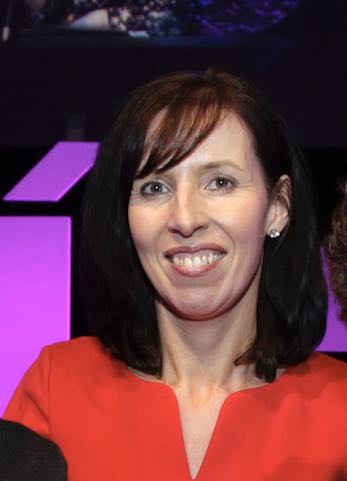 Author
Madeleine Murray
National Coordinator – CPD Design
PDST Technology in Education, Ireland