The spring Media & Learning Online conference takes place on Thursday 6 May. This one day event is full of talks and discussions about topics that are of concern right now to anyone working in the higher education sector. Supporting academic staff, multimedia resource storage and re-use, podcasting, fostering active learning, tackling zoom fatigue – just some of the topics as we get together to share what we have learned about delivering media supported teaching and learning since the start of the pandemic.
One part of the day will be dedicated to discussing ideas on making online learning as engaging and interactive as possible with multimedia.

Rebecca M. Quintana from the Center for Academic Innovation at the University of Michigan in the USA and Rod Cullen & Orlagh McCabe from Manchester Metropolitan University in the UK will be giving talks packed with ideas and suggestions for you to use.
We will also be sharing what we have learned during the pandemic about how academics teach online with the help of talks by Marco Kalz from Heidelberg University of Education in Germany and Richard Beggs from the University of Ulster in the UK. 'Zoom fatigue' has become quite a troublesome phenomenon for many, Geraldine Fauville from the University of Gothenburg in Sweden will be providing insight into the recent Stanford study into Zoom fatigue and what causes it.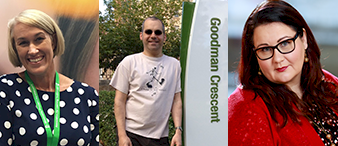 We also will be hearing what students have to make of all of this from Sarah Knight who will be sharing the findings of a very large scale study by Jisc in the UK into students' experiences and expectations of learning online.
University service centres have had a lot to cope with as they have had to adjust their offer to meet the changing needs of academic teaching staff. They also have had to grapple with issues to do with quality as many academics learn to make their own multimedia teaching resources.

Michel Beerens from the NewMediaCentre in Delft University of Technology in the Netherlands and Rich Goodman from Loughborough University in the UK will talk about their experiences in this adjustment, while Sanne Brauer from Oulu University of Applied Sciences in Finland will be talking about the campus of the future.
We also plan to talk about some of the practical issues faced in our sector like how to cope with the huge increase in multimedia storage and what types of retention, re-use and management policies and practices can be put in place to avoid data storage becoming a costly headache in the future.
Finally we are going to talk about podcasting, arguably one of the rising stars in the educational multimedia firmament. Join experts like Alexandra Mihai from Maastricht University, in the Netherlands, Giselinde Kuipers, from the Center for Sociological Research, in KU Leuven, Belgium and the podcasting team of Jantine te molder, Tim Dalhoeven & Dennis Broekhof from the Saxion Video-Unit, Saxion University of Applied Sciences in the Netherlands as they share their tips and suggestions for creating really effective podcasts for learning. Check out the full programme here.
The spring edition of Media & Learning Online is a must-attend event for anyone keen to maximise their use of media in higher education now and in the future. Learn from our experts, share your experiences and extend your network, all from the comfort of your own desktop. Registration for members of the Media & Learning Association is free, while non-members just need to pay a booking fee. Register here.